In November, Artefact's UK managing director, Pascal Coggia, took part in The Drum Network's podcast, 'The next phase of AI and the opportunities for marketers'.
He talked to Chris Sutcliffe, The Drum's senior reporter.
Artificial intelligence (AI) means many different things to many different people; some picture androids, others think of the algorithms already powering Google and even smaller tech initiatives. The podcast takes stock of progress to date and looks at what AI is enabling in the world of marketing and how it has the power to change the marketer's toolkit even more radically.
Where does Artefact interact with AI? Where are you seeing it make the most sense to use it?
Using AI for the personalisation of marketing activities is becoming fairly mainstream for a lot of companies. But we are also beginning to see it used for new challenges, often outside the scope of marketing and sales. AI is used to make better decisions, not just for people involved in day-to-day business operations, but increasingly at the C-suite level.
Decision-making used to be based on things like political risks, moving too fast or not fast enough, trends derived from competitors, and benchmarks. But increasingly it's possible for businesses to create their own formula for success so that they can invest their money where they know it is going to make the most difference. And that can be done at quite a detailed level.
C-level personnel need AI to determine where to allocate marketing and promotion budgets, to set pricing levels, etc. It can also be used to decide on product assortments; retailers for example might have to consider hundreds of sales points around Europe and determine the right product mix for the local customers of each. Which shops have similar requirements? What is the net outcome if one outlet is closed – or if it is kept open?
Essentially the biggest development in AI is that it is no longer just used by 'geeks' and people looking for ways to save time, it is becoming a tool used at CEO level.
Where do brands have to be careful when using AI?
We are seeing more and more brands use AI for creatives and content, harnessing it to enable material to be produced quickly and in response to what is happening at that moment. Global brands sponsoring sporting events for example will want to react when a goal is scored, while other brands will use AI to automatically develop creatives that appear in digital marketing campaigns the next day.
But the traditional process for developing creatives is much longer and involves an in-depth checking and approval process to control the brand image. The challenge is how to use AI in a constructive and compliant way, making the most of the speed that it enables, but not moving so quickly that it damages the brand.
Which brands are using AI really well?
Brands in the CPG (consumer packaged goods) sector, along with gaming and sports-related brands are leading the way, particularly in the use of immersive content and the way in which they react quickly to produce content that is relevant to the context at the time – rather than being based on what happened a month ago. (They are helped here by being very close to consumers.) They are also aware of the need to appeal to a younger generation in order to build the brand for the future.
What does the emergence of AI as a discipline mean for skillsets?
We build AI and data solutions for our clients and as a partner it's hard to package AI as an off-the-shelf product as this requires too much of it to be generic; the reality is that each situation needs a unique formula. We take a modular approach, using building blocks and assembling them for each specific application.
The main issue is the adoption rather than the technical solution in terms of who will operate it, and for what decision-making it will be used, as well as the operating model and process. We build in-house data models and this requires people from various backgrounds. To date the focus has been on data scientists but with a lot of algorithms already existing, we believe that to build AI models at scale will require more data engineers.
What are you most excited about in terms of AI and marketing in the near future?
We are seeing an interesting trend among the brands we work with as CMOs increasingly take on head of sustainability roles – and AI is a very useful way to address this topic.
In terms of brand purpose, we've talked about how AI can influence creativity so that content reflects what is happening at that particular moment. And the use of AI can be expanded to other areas. Taking procurement for example, organisations can look at how products (and their constituent parts) are sourced, the elements used, etc. And with that knowledge it's possible to switch, changing the composition of the product so that it's more sustainable. Without AI, that would be impossible as there are so many data points, so many suppliers, so many things that are not specific, and that may vary around the world.
AI lets marketers take control of the whole product chain to achieve the objective of being more sustainable.
Pascal Coggia was joined on The Drum Podcast by Patrick Furse of integrated agency Bray Leino and Maria Bain of digital marketing agency iCrossing.
The full version is available to listen here.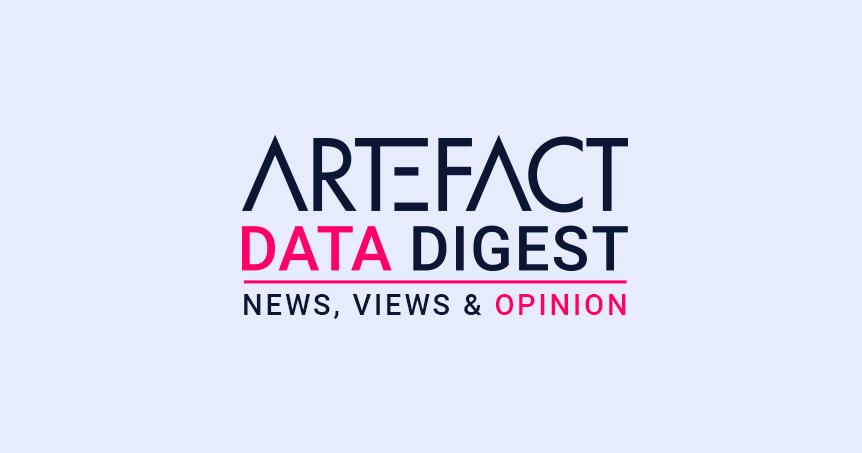 Interested in Data Consulting | Data & Digital Marketing | Digital Commerce ?
Read our monthly newsletter to get actionable advice, insights, business cases, from all our data experts around the world!