INSIGHTS
CD²O study: The profiles, challenges and enablers of
Digital

and

Data

Leaders
Insights /
Data – Digital
16 April 2020
As more companies appoint Chief Digital and Data Officers, a new study from Artefact defines their profiles, the challenges they face, and their evolution within organisations.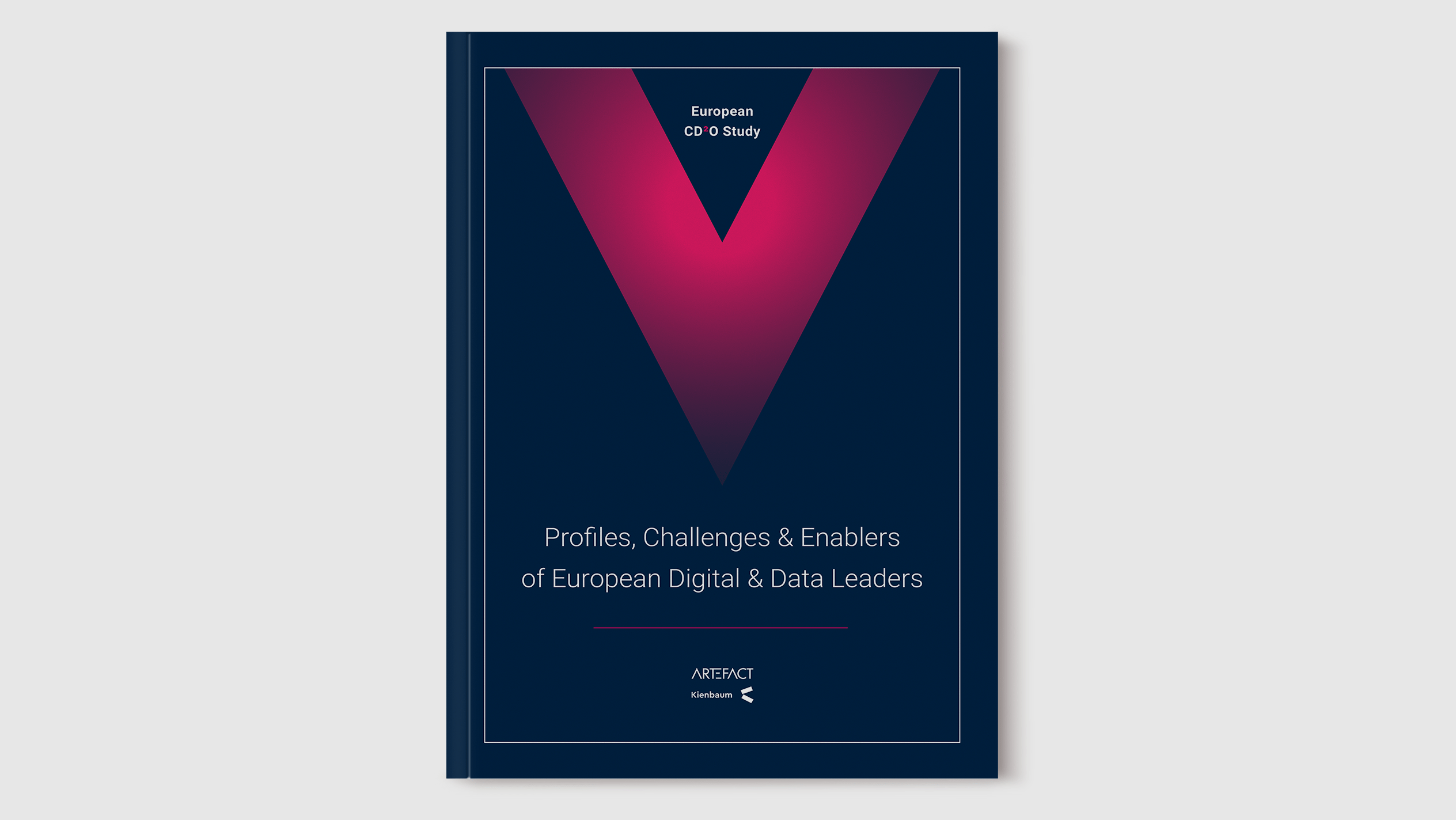 In recent years, many companies, especially large businesses, have recruited dedicated Chief Digital Officers and Chief Data Officers to manage their digital and data transformation. This growth proves that companies are now aware of the business opportunities that digital provides. 
To learn more about the profiles of these officers, the challenges they face and their potential for development within organisations, Artefact has teamed up with Kienbaum, a leader in executive recruitment and Human Resources consulting, to produce an insightful new report: The profiles, challenges and enablers of European Digital and Data Leaders.
In the report, we analysed 500 LinkedIn profiles of Chief Data Officers (CDaO) and Chief Digital Officers (CDiO) (grouped under the term CD²O), in more than 20 different sectors, and conducted around a hundred interviews across Europe.
The study uncovered a number of key insights about the roles and responsibilities of CD²Os, as summarised below.
Key takeaways
1. The roles of CD²Os are now long term.
In 2017, less than 50% of companies in the manufacturing or media sectors had appointed a CDO. In 2019, 100% of manufacturing companies and 90% of media companies had recruited for these positions (notably, in 2017, three sectors – automotive, aeronautics and FMCG – were already 100%. Source: FMCG or PCG: Consumer product).
Only the luxury sector is an exception: less than 75% of the players have appointed a digital leader – less than any other sector. The largest companies have also already taken a step further, launching their own "Data" or "AI Factories".
2. CD²Os have rare profiles with diverse responsibilities.
In France, the majority of CD²Os are aged around 42 (average age 42.3 years — >70%), have trained as an engineer (42% for CDiOs and 60% for CDaOs), and have spent less than three years in their current position (66%).  
There is a clear gender split though. Only 27.3% of CDiOs are women, with only 22.3% CDaOs. These figures are not surprising, though, when we consider that, in Europe in 2015, 57% of all graduates were women, but only 25% obtained a diploma in the digital streams (source: What place for women in digital?).
If the position was previously confined to subjects related to e-commerce or CRM, today Chief Digital Officers are in charge of many different subjects relating to customer experience or customer strategy. 
Beyond their training in digital marketing and their technical knowledge, their skills in teaching and optimising human resources are in great demand. Of the six countries studied in our survey, France has the highest average external recruitment rate (over 50%) of CD²Os, closely followed by the Netherlands.
In comparison, in the United Kingdom and Germany, more than 80% of CDaOs have taken up their posts following internal mobility. The percentage is similar for CDiOs in Spain.
3. CD²Os face common challenges across sectors.
The role of CD²Os is to bridge the time gap between the provision of technological innovation and adoption. Their mission is to push the limits of vertical organisations and work to remove silos. 
The four major challenges facing CD²Os are: 
Building and establishing their legitimacy.

Recruiting teams of experts (made up of talents from various backgrounds).

Delivering use cases and quickly obtaining results.

Coordinating with IT teams, who are typically asked to transform existing systems.
Additionally, all of the interviewees mentioned converging subjects, namely: forecasting demand, participating in improving logistics processes, rationalising marketing expenses, improving the customer experience and implementing data governance.
4. CD²Os data projects must serve the company's vision.
All digital leaders are concerned about the maturity of their organisation's use of data. They only give their companies 3 out of 5 stars on the scale of maturity in data transformation. 
CD²Os must therefore think about what they want to use data for, because, without a clearly stated business vision – and the creation of a true data culture – data processing cannot play a legitimate role. 
When companies become mature in terms of data management, they can switch to a decentralised model by business unit. In 2020, while 72% of executives believe that AI is a significant commercial advantage, only 50% of organisations have sufficient AI and data skills to achieve attractive commercial value. 
This is achievable with an AI Factory, however, an agile operating framework, which uses iterative lean AI methodologies. AI Factories deliver value quickly, passing from the ideation and qualification of use cases to the industrialisation phase, while identifying new sources of income. Significantly, 90% of pilot use cases have not yet reached industrialisation. 
5. CD²Os must place people are at the heart of business transformation.
Successful transformation requires a company to evolve the working methods of its employees. In this sense, a company's General Manager must be its first CD²O. Coordination between teams, in particular between CD²Os and the IT department, is essential to advance projects.
To succeed, CD²Os must create Feature Teams to transform the way a company works. Often made up of a Business Unit Manager, a Machine Learning Engineer and a Data Scientist, these teams have a clearly defined objective – a "golden KPI" – and must be led by a Product Owner. 
Feature Teams that combine only technical profiles are often doomed to failure because they suffer from a lack of perspective on the customer experience, the user journey, or on business issues and business processes. Conversely, a multi-disciplinary approach is key to deploying data projects efficiently. 
Ultimately, CD²Os are key to driving a company's digital and data transformation. Their data projects must be treated like any business project with a life cycle involving every department in question. 
Effective transformation must take place on three levels: at the level of vision; at the level of the operating model involving the implementation of different technological assets; and, finally, at the level required to drive change in all parts of an organisation.