In today's data age, first-party (1P) data collection is a key enabler that sets organisations up for future growth. First-party data is a competitive asset unique to each organisation. Research shows that organisations that effectively exploit their first-party data were more likely to see an increase in their ROI and cost efficiency than those that didn't leverage their first-party data in a similar manner. While many organisations have some form of first-party data strategy, we often see a lack of executional power to truly drive the first-party data agenda and fuel use cases at scale.
Fueling uses cases with first-party data, from R&D to supply chain
Before diving into the challenges many organisations face, let's look at some data use cases and how first-party data accelerates them.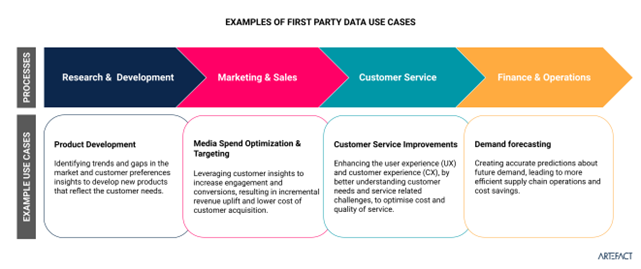 Product Development: first-party data can help identifying trends and gaps in the market and customer preferences insights to develop new products that reflect the customer needs.

Media Spend Optimisation & Targeting: leveraging customer insights to increase engagement and conversions, resulting in incremental revenue uplift and lower cost of customer acquisition.

Customer Service Optimisation: enhancing the user experience (UX) and customer experience (CX), by better understanding customer needs and service related challenges, to optimise cost and quality of service.

Demand forecasting: creating accurate predictions about future demand, leading to more efficient supply chain operations and cost savings.

These are just a few of the examples of how first-party data can be leveraged. All of these use cases require vast amounts of detailed first-party data in order to be effective.
Standardising and enriching first-party data collection
There are several fundamental challenges to collecting first-party data at scale. One of the most important is the need to standardise and enrich first-party data collection. Organisations must be constantly on the lookout for more first-party data as data increasingly becomes a strategic competitive advantage. In practice, this means that organisations need to improve the tracking and measurement of every digital touchpoint they have with their customers. Improving tracking and measurement is a continuous loop as customer journeys change and new touchpoints are added every day.
Data collection involves not only data enrichment but also data harmonisation, which enables data aggregation and reporting across different streams. Without standardisation, data can be incompatible among different systems and platforms, leading to data quality and accuracy issues.
In addition, naming inconsistencies across platforms can create challenges when activating use cases across all processes of an organisation, which can cause:
Integration issues
Data analysis and reporting problems
Cross-platform functionality concerns

To overcome these challenges, organisations should prioritise establishing consistent attribute naming conventions across their platforms. This can be achieved by:
– Standardising naming schemes
– Promoting clear communication between the teams responsible for each platform.
In this way, businesses can create a seamless user experience and facilitate successful use case activation.
Obtaining preference and consent to ensure data usability
With user privacy at the forefront of the changing digital landscape, it is critical for organisations to create a future-proof strategy that enables them to leverage the data they collect from users.
Two essential aspects of online privacy are:
Cookie consent: which involves obtaining explicit permission from platform users before placing or accessing cookies on their devices. This ensures compliance with relevant regulations and gives users control over their personal data.

Preference Management: which allows users to customise their cookie settings and privacy preferences. It provides users with the ability to select the types of cookies they want to enable or disable, based on their preferences.
Obtaining proper consent is critical to an organisation's ability to use data and mitigate the risk of large fines due to violation of privacy regulations, and more importantly, reputational damage.
Overcoming the challenges of first-party data collection
Our experience has shown that large organisations struggle due to:
Lack of organisation/governance: leading to confusion about data collection roles and responsibilities.

Lack of technical knowledge: leading to poor decision making regarding data-related tools and technology.
These challenges make it difficult to build a strong data foundation and develop effective use cases. The lack of global data standardisation is a significant obstacle for organisations seeking to collect and use first-party data at scale. Without a harmonised approach, organisations face barriers to deploying and scaling new data use cases, leveraging their first-party data, and differentiating and gaining an edge over competitors by capitalising on their unique insights into their customer base.
To overcome these challenges, organisations must recognise the importance of a strong data collection foundation from the top down. Effectively collecting and using data at scale requires:
Strong support from leadership to ensure that proper data collection according to established standards is prioritised across the entire organisation.
Creation of a dedicated, global Centre of Excellence team (COE) for data collection and compliance is imperative.This specialised team would be responsible for:

Creating account structures
Developing data measurement plans
Providing training
Ensuring that all data collection activities comply with relevant regulations.By integrating the COE within the organisation, both consistency and standardisation of data collection practices as well as compliance with changing regulatory requirements can be ensured.

Ensure that the right technology for data measurement and consent management is in place.
Conclusion: Unlocking the full potential of data with first-party data
Standardising data collection and centralising consent management are crucial steps for organisations seeking to effectively collect and utilise first-party data at scale.
Building a strong foundation from the top down, creating a dedicated team focused on data collection and compliance, and investing in the right tools are essential steps in this direction.
Overcoming the challenges associated with first-party data collection and use will unlock the full potential of an organisation's data, drive more advanced use cases and position organisations for future growth.
At Artefact we are always open to discuss your possibilities. Reach out via LinkedIn or fill in the contact form to get in touch.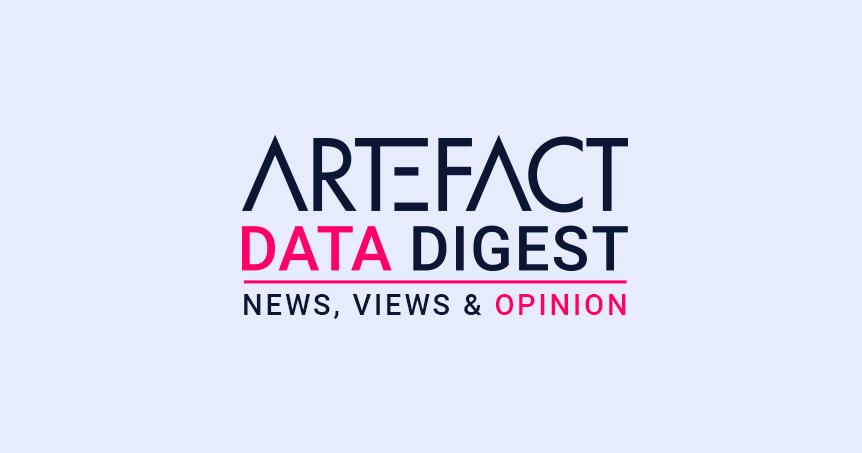 Interested in Data Consulting | Data & Digital Marketing | Digital Commerce ?
Read our monthly newsletter to get actionable advice, insights, business cases, from all our data experts around the world!