L'ETI parisienne Artefact a annoncé le mercredi 15 décembre son retrait d'Euronext Paris. L'entreprise spécialisée dans le traitement et l'analyse de données ambitionne de tripler ses effectifs d'ici à 2025, avec déjà 500 recrutements en 2022, et de se positionner comme un leader mondial en multipliant les acquisitions.
Quitter la Bourse pour gagner en flexibilité. C'est le pari de l'ETI parisienne Artefact qui a annoncé ce mercredi 15 décembre son retrait de la Bourse pour s'associer à la société de capital-investissement Ardian . « Ardian a un réseau international très puissant qui nous sera utile pour développer notre croissance externe », estime Vincent Luciani, cofondateur et PDG d'Artefact.
La société de conseil spécialisée dans le traitement et l'analyse de données compte tripler les effectifs du groupe d'ici à 2025. En 2022, ce sont déjà 500 recrutements qui sont prévus. L'entreprise comprend aujourd'hui 800 salariés avec une présence en Europe, en Asie, au Moyen-Orient, en Afrique, aux Etats-Unis et en Amérique du Sud.
Embaucher massivement
« Le secteur de la data est très fragmenté et va se structurer dans les prochaines années. Nous associer à Ardian va nous permettre d'acquérir d'autres acteurs mais aussi d'accélérer les investissements pour embaucher massivement », analyse Vincent Luciani, qui croit en l'agilité et la flexibilité qu'apportera la présence d'un fonds à ses côtés, la Bourse ne prenant pas assez en compte le cycle de vie d'une entreprise du secteur de la tech.
Créée en 2014 par Vincent Luciani et Guillaume de Roquemaurel, Artefact s'est rapidement imposé comme le leader français de l'analyse de données au service de la stratégie de ses clients. En 2016, Artefact rachète une société sept fois plus grande qu'elle, NetBooster, très présente à l'international. Cette entreprise étant cotée en Bourse, le nouveau groupe né du rachat le devient aussi. L'Oréal, Danone, Sanofi, Orange, Carrefour, Samsung et Unilever font partie des clients de l'ETI qui a réalisé en 2020 85 millions d'euros de chiffre d'affaires.
Le développement de solutions spécialisées par la donnée fait partie des services proposés par Artefact, comme l'automatisation des centres d'appels. Lorsque le client appelle un téléconseiller, un ordinateur est capable de comprendre les mots prononcés par le client et ainsi proposer des réponses automatiques. « Avec l'explosion des livraisons, les centres téléphoniques croulent sous les appels pour le plus souvent des problèmes de livraison qui peuvent être réglés très rapidement car ce sont des sujets simples à gérer », décrit Vincent Luciani.
Formation à la donnée
Avec leur client Carrefour, Artefact a mis en place un système d'analyse des données pour mieux prévoir la demande de pain et de viennoiserie presque heure par heure. Les boulangers-pâtissiers des supermarchés adaptent ainsi les volumes à confectionner afin d'éviter le gaspillage mais aussi de mieux anticiper les stocks de matières premières à constituer.
A l'échelle mondiale, le marché de la donnée souffre d'une pénurie de talents. Il manquerait près d'un million de personnes. Artefact a lancé sa propre école de formation pour permettre à ceux qui le souhaitent d'être formés à ces métiers et de rejoindre ensuite l'entreprise. « Nous proposons une formation à moitié théorique et à moitié pratique avec l'assurance d'un accès à l'emploi à la clé et de belles perspectives d'évolution en France mais aussi à l'étranger », précise Vincent Luciani, qui rappelle que ces formations sont ouvertes également aux personnes en reconversion professionnelle.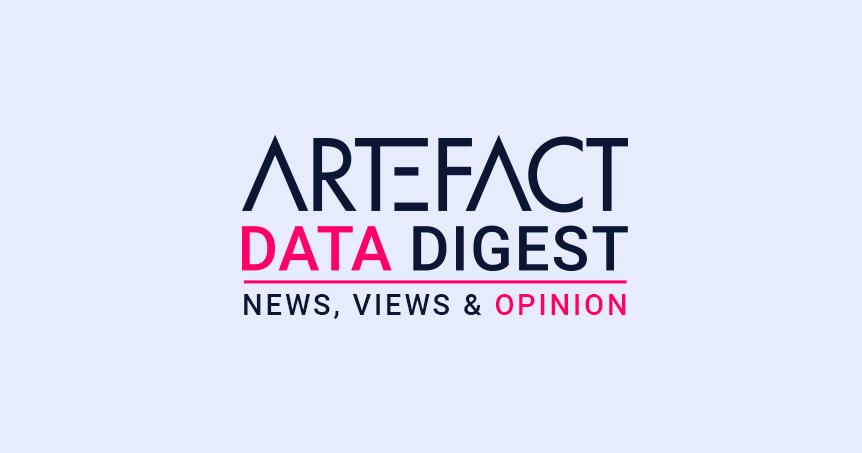 Interested in Data Consulting | Data & Digital Marketing | Digital Commerce ?
Read our monthly newsletter to get actionable advice, insights, business cases, from all our data experts around the world!