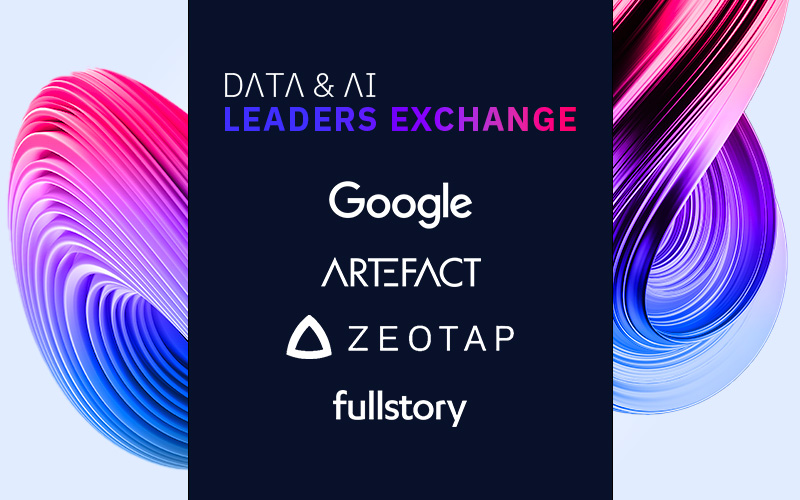 How to unleash the power of Data & AI
Es erwartet Sie ein exklusives Event zum Thema Data und AI mit der zentralen Frage, wie sich Unternehmen Data und AI nutzbar machen können.
Hierzu haben sich ARTEFACT, GOOGLE, FULLSTORY und ZEOTAP zusammengeschlossen, um sich gemeinsam mit einer selektierten Runde von etwa 40 eingeladenen Gästen bei Fingerfood und Getränken darüber auszutauschen, wie Unternehmen sich dem Thema künstliche Intelligenz & GenAI annähern und wie Daten-Transformationsprojekte erfolgreich abgewickelt werden.
Das Event wird von inspirativen Talks der teilnehmenden Unternehmen begleitet.

Agenda
INSIGHTS – Wie gehen andere Unternehmen mit der sich sprunghaft entwickelnden Technologie um?

USE CASES – Wie können Data und AI genutzt werden, um Geschäftsziele schneller und effektiver zu erreichen?

EXPERT VIEWS – Auf die aktuellen Entwicklung von AI-Technologien und Produkten.

DISCUSSION – Hochwertiger Austausch zwischen Gästen, Experten und Gastgebern.
Special Guests
Es freut uns vor allem, dass wir als Gastredner SENNHEISER, zusammen mit FULLSTORY und DR. OETKER gemeinsam mit ZEOTAP begeistern konnten.
More to come!
Artefact – WHO WE ARE!
Artefact ist ein Beratungsunternehmen der neuen Generation, das sich auf datengesteuerte Dienstleistungen spezialisiert hat und seit einem Jahrzehnt Pionierarbeit im Bereich Daten und digitales Marketing leistet. Unsere Experten für digitales Marketing in den Bereichen SEO, SEA, Paid Social, Affiliate Marketing, Display, Retail Media und CRM arbeiten bei allen Projekten stets mit den besten Data Scientists und Ingenieuren für KI-Technologien zusammen. Dank unserer 1.300 Mitarbeiter an 20 Standorten weltweit (führend in Europa mit starkem Wachstum in Asien, dem Nahen Osten und Afrika sowie in Nord- und Südamerika) sind wir in der Lage, unsere datengesteuerten Lösungen schnell zu skalieren und zu industrialisieren.
Besuchen Sie unsere Website für mehr Informationen.
Additional Details
Headline - Data & AI Leaders Exchange @ Google Office Hamburg
Organisers - artefact_germany
Registration Button Text - register_now
Registration Email/URL - https://conference.artefact.com/l/597421/2023-09-11/j2mg2c