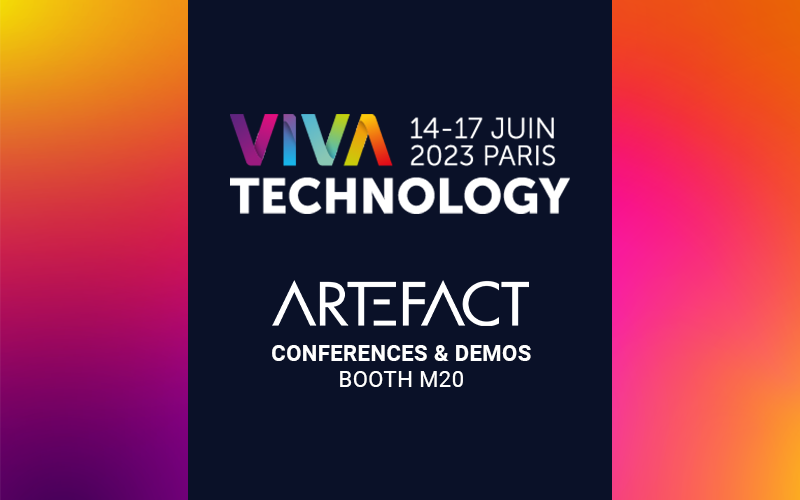 Event
Artefact at VivaTech - Porte de Versailles Paris - Booth M20
Artefact Conference Area & Demo Zones
Artefact will be present with a booth (Stand M20) at VivaTech, the largest European event about innovation and new technologies. It will take place in Paris, Porte de Versailles, on June 14-17th, where 91,000 attendees from 146+ countries are expected.
Get your pass here: https://vivatechnology.com/get-your-pass
This is Where Business Meets Innovation. Check out the Vivatech's speakers and program: https://vivatechnology.com/
Artefact will host conferences every hour on its booth and will demonstrate many innovative AI Generative solutions deployed at our customers' and with our partners Microsoft Open AI and Google GenAI:
"Knowledge Open AI Agent" on Microsoft Azure Open AI to generate a conversational agent from a company's website content and FAQs in a few minutes.

"Youtube GenAI Agent" with Bard AI and PaLM 2 to create a social listening reporting from YouTube videos scrapping. This solution provides a detailed knowledge of the emotions and the perception of the Internet users facing their video contents.
The first three days, from Wednesday to Friday, the presentations will be focusing on how Artefact's AI solutions bridge the gap between data and businesses to deliver tangible value. Every Artefact project takes an approach that 'democratizes data' by making data accessible and easy to use by everyone in the organization. The company's business services are also reinforced with training and upskilling provided by the Artefact School of Data.
Artefact Conference Area & Demo Zones on our Booth M20
Same agenda each day for Enterprises June 14th to 16th – on AI, Data & Open Innovation
Using an AI visual recognition solution for an augmented customer service – Use case ORANGE. | 09:30 – 09:45 / 14:30 – 14:45 

Recruiting and engaging tech and data talent with Hackathons. |10:00 – 10:15

Deploying Data Marketing use cases to do more with less: Long live CDP! | 10:30 – 10:45 / 15:30 – 15:45

Identifying and prioritizing data use cases thanks to Hackathon. | 11:00 – 11:15

Developing Generative AI solution to accelerate business. | 11:30 – 11: 45 / 16:30 – 16:45

How to get employees onboard through effective Data Governance. | 12:30 – 12:45 / 17:30 – 17:45

Democratizing the use of AI through training with the Artefact School of Data | 15:00 – 15:15

Initiating the decarbonization of an industry thanks to a data hackathon. | 17:00 – 17:15 / 18:00 – 18:15
June 17th – The Artefact conferences will be addressing individuals. 
ARTEFACT SCHOOL OF DATA
What do we learn, why a school integrated with a data company makes a difference. | 09:30 – 09:50 / 13:30 – 13:50 

RECRUITMENT AT ARTEFACT – DATA AND AI PROFESSIONS
Focus on functions: Software Engineer, Data Scientist, Data Analyst. |10:30 – 10:50 / 14:30 – 14:50

WOMEN@ARTEFACT
Representation of women in tech: why is it important? | 11:30 – 11:50 / 15:30 – 15:50

RECRUITMENT AT ARTEFACT – DIGITAL MEDIA AND CREATION
Focus on the functions Digital Media (SEO, PPC, Social, Programmatic, Display, Affiliation, CRM) and Creative Advertising | 12:30 – 12:50 / 16:30 – 16:50
NB: Our Artefact schedule of conferences is in progress.
Come back to this webpage to get updated of the latest evolutions.
Additional Details
Headline - Artefact at VivaTech - Porte de Versailles Paris - Booth M20
Registration Button Text - register_now