LEWIS, l'agence mondiale de communication intégrée s'est vu confier le budget Contenu et RP d'Artefact en France, Allemagne et Royaume-Uni.
À la suite d'une consultation, Artefact a sélectionné l'agence LEWIS pour la création et la gestion de l'Artefact Content Factory, une plateforme d'articles d'opinion et de contenus expert en data et digital, visant à mettre en avant le savoir-faire d'Artefact en Data Consulting, Data Marketing et Media Activation. Par ailleurs, LEWIS gère l'exploitation RP (Relations Presse) de ces tribunes de fond auprès des médias, en particulier sur les marchés français, allemand et anglais.
Artefact est une nouvelle génération de société en services data, spécialisée dans le conseil en data transformation et marketing digital data-driven. Sa mission est de transformer la donnée en impact business et de délivrer des résultats tangibles sur l'ensemble de la chaîne de valeur des organisations. Les 900 employés d'Artefact répartis dans 13 pays ont pour mission d'accompagner leurs clients dans l'accélération de leur transformation digitale, et ce grâce à une alliance d'atouts uniques : des technologies de pointe en IA, des méthodologies agiles, ainsi que des équipes d'experts pluridisciplinaires en science de la data et en marketing digital.
Le périmètre de LEWIS se concentre sur l'accompagnement stratégique et opérationnel d'Artefact dans le développement de l'Artefact Content Factory, plateforme composée d'avis d'experts à travers des articles de blog, des livres-blancs, ainsi que des cas clients verticaux, à laquelle viennent s'ajouter des études et des conférences en ligne qu'Artefact déploie à travers tous les pays où le Groupe est présent.
Ce nouveau dispositif de production de contenus, placé au cœur de la communication du Groupe, est le moteur de visibilité et de partage de son expertise data et IA (Intelligence Artificielle) aussi bien business que technologique.
LEWIS accompagne aussi Artefact dans le relais de sa communication auprès des médias en France, Allemagne et Grande-Bretagne, dont :
–    Le nouveau rapport sur l'Étude européenne CD²0 à propos des Chief Digital & Data Officers : qui sont-ils, que font-ils, où vont-ils ? Étude qui a été réalisée sur la base de 100 entretiens avec des CDOs et de l'analyse quantitative de 500 profils.
–    Des visioconférences info-éducatives sur les enjeux stratégiques auxquels répondent les solutions data-driven d'Artefact avec des cas d'usage concrets par secteur d'activité.
« Artefact est une entreprise avant-gardiste qui comprend les enjeux business des entreprises et qui a défini une approche innovante pour y répondre grâce à la data et l'IA. Gagner la confiance du Groupe est pour LEWIS un véritable gage de reconnaissance de nos expertises Tech et B2B en Contenus et RP. Nous avons hâte de relever les challenges d'Artefact, et de promouvoir le savoir-faire et l'innovation qui transparaissent dans toutes leurs initiatives » Marie-Laure Laville, Directrice de LEWIS France.
« LEWIS possède l'état d'esprit que nous recherchions : une vision internationale et une approche digitale de la communication et des RP. Son analyse concurrentielle, sa compréhension de notre marché complexe et sa capacité à nous accompagner aussi bien dans une dimension stratégique qu'opérationnelle, sont autant de facteurs qui expliquent notre choix. L'agence fait preuve d'une agilité et d'une flexibilité qui nous ressemble. Avec leur support, L'Artefact Content Factory va devenir le cœur du réacteur du partage de notre expertise auprès de nos clients »
Sophie Huss, Senior VP of Marketing du Groupe Artefact.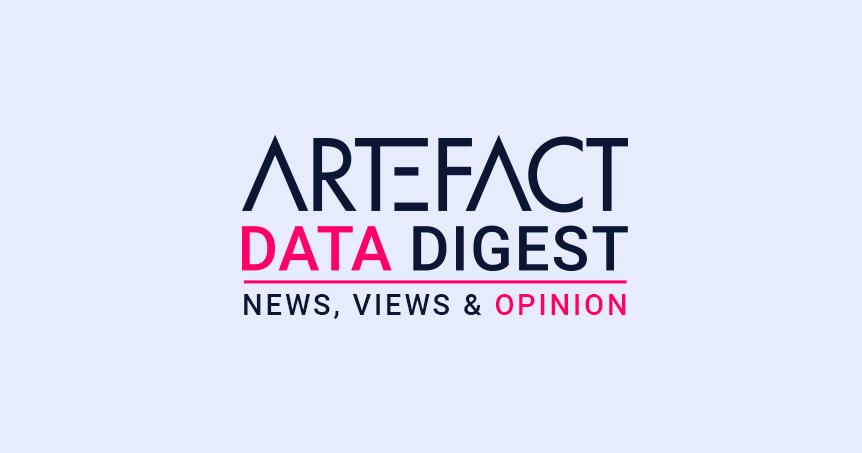 Interested in Data Consulting | Data & Digital Marketing | Digital Commerce ?
Read our monthly newsletter to get actionable advice, insights, business cases, from all our data experts around the world!