Edouard de Mézerac has been appointed Managing Partner of Artefact Asia.
In this new position, he will be responsible for all of Artefact Asia's business activities in the region. Since the creation of Artefact Asia in 2009 by Pascal Duriez, who has transitioned to the role of Chairman of Artefact Asia, the digital agency has enjoyed tremendous success, achieving 25%+ annual growth. Following the launch of the Data Consulting & Data Marketing entity by Edouard de Mézerac, growth catapulted to 30-40% over the last 3 years, positioning Artefact's unique pioneering model at the intersection of Arts and Science.
THURSDAY JULY 29th 2021, Shanghai (China)— Artefact Asia announces the appointment of Edouard de Mézerac as Managing Partner, leading all activities of Artefact's business in China and Asia. A notable 2018 hire, he assumes his new responsibilities as of today. Pascal Duriez is taking on the role of Chairman of Artefact Asia after having served as CEO of Artefact's Digital Marketing operations in Asia since 2009. In recent years, companies such as Loctite, LVMH, Danone, Pernod Ricard, Sanofi, Henkel, and more have become clients of Artefact Asia. This rapid growth is reflected in the number of employees that grew from a mere handful to 150, distributed between the offices of Shanghai and Hong Kong in China, Kuala Lumpur in Malaysia and Singapore. The Asian area is now the largest outpost of Artefact in the world, outside its Paris headquarters.
Since September 2018, when he joined Artefact as Managing Partner of the APAC Data Consulting entity, Edouard has led a major transformation of Artefact Asia activities, helping the organisation evolve from a digital agency to an end-to-end data and digital service company, committed to putting excellence at the center of everything the company does. Edouard is widely acknowledged throughout the industry for the transformative impact he brings to clients. He has worked in the data consulting industry for over twelve years, with experience as a partner in management consulting, specialised in data & analytics, and has occupied senior positions at Olivier Wyman consulting practice in France, the US and China. Edouard de Mézerac was named among the 40 Under 40 by Campaign Asia magazine in 2020.
Dedicated to rapid business development, Edouard de Mézerac successfully leveraged Artefact renowned data science and AI technology expertise in the APAC region. Always pioneering market trends since its foundation, Artefact Asia is recognised for its unique and advanced expertise in data-driven solutions for businesses and marketing, with an end-to-end approach from strategy to operations. This successful business model combines data, media and creation to help global brands in Asia develop their capabilities in the following areas: Data Consulting, Consumer Engagement (CRM, Social), Ecommerce, Data Science, Data Engineering, Digital Tech, Media, Creative, and Strategic Planning.
The agency has also delivered best-in-class, award-winning campaigns for clients and was named Consultancy of the Year (Gold) and Independent Agency of the Year (Bronze) at the 2020 Campaign Agency of the Year Awards. Artefact Asia was honored recently with two awards at the Top Digital Awards 2021 and also received the prize on AI World Innovation Challenge at the World Artificial. These achievements and data acceleration were made possible thanks to the strengths of the different teams managed by local leaders Mike Zhu (Managing Director) and Xavier Mussard (Data Consulting Partner).
"Over the past three years, I have focused much of my efforts on how the consolidated data consulting and data marketing model can best perform, as it both innovates for clients at the highest level and aligns with our core competencies. I couldn't be more excited to keep working with the talented team in Asia and to help deliver Artefact's ambitious growth plans for its local offices and clients and continue to build on their success. I am honored to take on the role of Managing Partner of Artefact Asia and want to thank Pascal for his incredible contribution to this company. He is a great leader who has dedicated twenty years of his life to this area and to put Artefact Asia in the great position it is today."
Pascal Duriez made outstanding contributions to Artefact Asia and now moves to the position of Chairman of Artefact Asia, which includes strategic vision and lead generation for the entire Asian region. With his diverse career experience which encompasses leadership roles at European and Asian companies, and his deep understanding of the fast-changing consumer digital landscape within China, he will make an extremely valuable contribution as Chairman.
"We have great offices in China and South Asia – which are among our most important global markets – and we are very excited about their potential to grow and to meet the needs of our clients in a disrupted world by the Covid pandemic. I would like to thank Pascal for his dedication and all he has done for Artefact Asia, and to congratulate Edouard for his new position of Managing Partner of the entire APAC subsidiary, he's a fine talent with an excellent ability to translate our global vision of data as an asset into tangible and impactful transformation for our clients in Asia."  
Vincent Luciani, co-Founder and co-CEO of Artefact, says.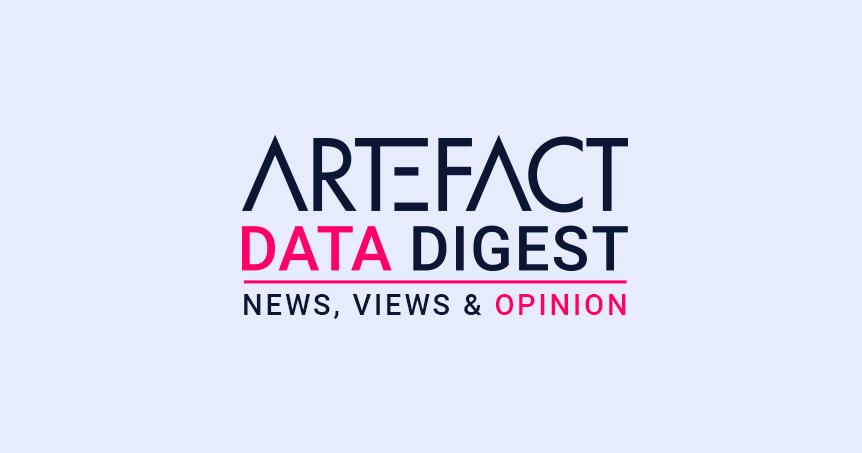 Interested in Data Consulting | Data & Digital Marketing | Digital Commerce ?
Read our monthly newsletter to get actionable advice, insights, business cases, from all our data experts around the world!