Global data transformation consultancy Artefact has promoted four of its directors to partners; they are located in France, Dubai and Brazil.
Artefact has strengthened its global senior leadership team by promoting four high-achieving leaders in France, MENA and Brazil to Partner level. They will be responsible for growing Artefact's business in their local markets.
As with all promotions at Artefact, the Partner Committee followed a fair and transparent process to determine who advanced to partner level. This included looking at achievements over the last year, and all candidates presented a business growth proposal to the board of directors.
All selected partners successfully demonstrated ability in the following areas: the ability to interact with senior clients; perfect delivery of projects; commercial instinct to generate qualified business cases; team development to help our teams grow.
Elina Ashkinazi-Ildis joined Artefact's Paris office as consulting director in 2021. Prior to that she led the digital transformation and international strategic planning at Artefact client Carrefour. Ashkinazi-Ildis has broad international experience; having graduated from the University of Toronto and then ESSEC in France, she has worked in Canada, France, Russia and Ukraine, spending the majority of her career at L.E.K. Consulting and Carrefour. She currently specialises in the retail sector, with major clients in this area.
Alexis Poujade has been a Paris-based senior consulting director at Artefact since January 2022. After graduating from two high-profile universities (Science Po and ESSEC), he started his career as a consultant at Roland Berger. His next role was at Pernod Ricard (another Artefact client) where he was in charge of its strategic planning, international marketing and digital brand engagement for almost ten years. At Artefact, he focuses on brands within the CPG market.
Omar Hallak has also been at Artefact since the beginning of 2022, when he joined the Dubai office as data consulting director. After graduating from the American University of Beirut and INSEAD, he started his career at Booz & Company as an analyst before going on to become a project leader at BCG, where he extended his management consulting expertise. Hallak's work with leaders from influential organizations to foster data-driven decision-making across vital economic sectors will be highly beneficial to Artefact as it continues to grow in the MENA region. His is primarily focused on the public sector and government.
Rafael Melo joined Artefact's Sao Paulo office in 2018 as senior data consultant. After graduating from FGV in Brazil and Penn State University in the US, he began his career at Rodobens, where he expanded its commercial strategies, and developed its strategic planning and innovation projects. He now focuses on brands and is helping to build Artefact's presence in the LATAM region; projects include building a Data Factory model enabling a Revenue Generation Center at his main client, Heineken.
On the promotions, Vincent Luciani, co-founder and CEO of Artefact, says:
"The current team of Partners across the Group has been impressed by everything Elina, Omar, Rafael, and Alexis have achieved in their time at Artefact. As Partners in our business, I know they'll be inspiring figures for all our colleagues and clients."
Über Artefact:
Artefact ist ein internationales Datendienstleistungsunternehmen, das sich auf Datentransformation und Beratung in den Bereichen Daten und digitales Marketing spezialisiert hat. Unser Ziel ist es, Daten in Geschäftseffekte umzuwandeln, indem wir greifbare Ergebnisse über die gesamte Wertschöpfungskette hinweg liefern.
Artefact's unique approach, which bridges the gap between data and business, enables our clients to achieve their business objectives in a dedicated and efficient manner. Our 1000 employees combine their multidisciplinary skills to help companies innovate their business. Our cutting-edge technologies in Artificial Intelligence and our agile methods guarantee the success of our clients' AI projects, from design to deployment, including training and change management. Covering Europe, Asia, North America, Latin America and Africa through our local presence in 16 offices, we work with leading international brands such as Orange, Samsung, L'Oréal, or Sanofi worldwide. www.artefact.com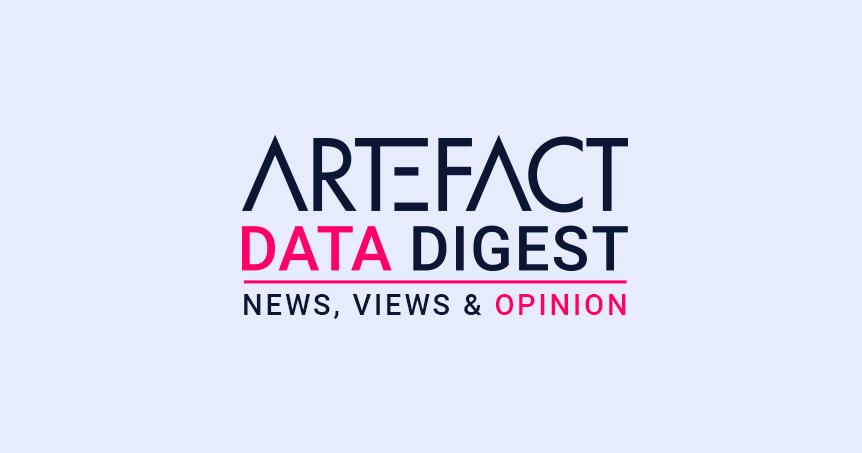 Interessiert an Datenberatung | Daten & Digitales Marketing | Digitaler Handel?
Lesen Sie unseren monatlichen Newsletter und erhalten Sie umsetzbare Ratschläge, Einblicke und Business Cases von unseren Datenexperten aus aller Welt!