The strategic importance of data for companies is no longer in question. Aware of this reality, Artefact helps companies to capitalize on this performance, growth and improvement lever. Here is the interview with Vincent Luciani, CEO and co-founder of Artefact.
How would you analyze the latest trends in business data transformation?
The shift to a data-driven business model – where decisions are made based on what we know to be true rather than on our intuition – is at the heart of the wave of digital transformation that has been sweeping through all sectors in recent years. Data analysis helps us respond with more certainty in the face of uncertainty. When wars and pandemics disrupt the order of things and lead to massive inflation, using advanced data analytics to make better decisions becomes more critical for businesses.
AI also needs data to learn, which frequently means dealing with sensitive personal data. For this reason, it is imperative for organizations to deploy responsible and trustworthy AI. It is key to ensuring that the values of inclusiveness and diversity are respected. Data has an essential role to play in creating a more ethical and just world.
Another major emerging trend, linked to the acceleration of global warming, is the use of data as a tool to help reduce ecological impact. Data and algorithms can measure the carbon footprint of activities and analyze how to develop products, services and infrastructures in more energy-efficient ways, by identifying sources of waste and inefficiency.
Artefact identified two drivers: first, to structurally reduce the carbon emissions of logistics and digital infrastructures, and second, to engage consumers to participate in this ecological transformation by displaying the carbon content of their shopping baskets and recommending actions to compensate for their emissions.
Business data maturity has advanced rapidly over the past decade. How has Artefact evolved as a leader in data consulting services?
Companies have implemented data governance policies, which are a prerequisite for any transformation, but there are still sectors that lag far behind in terms of their data processing, with a real potential for efficiency, such as healthcare or "heavy" industries. This is especially true in comparison to the consumer and retail sectors, which have begun their data revolution and which we know very well, such as L'Oréal, Danone, Unilever, Samsung, etc.
We started to transform marketing departments by making them more profitable and relevant in their multi-channel media investments with pioneering targeting, measurement and personalisation solutions. For the past few years, we have also been deploying acceleration programs in all business areas (Sales, Supply Chain, Operations, Call Centers, HR & Finance, etc.). We create value wherever there is data, and with our clients, we improve their processes and produce customized business applications.
Can you give us a concrete example that shows, from a precise business and operational objective, how Artefact designs AI solutions that improve business uses?
Data is the key to understanding customers, developing better products and services, and streamlining internal operations to reduce costs and waste. For example, we've been working with the Orange telecommunications group for over six years, and among the many use cases for leveraging the company's automation and AI potential, we deployed a solution with their teams to optimize their technicians' interventions on the fiber network. The solution is based on visual recognition technology that helps operators improve the quality of their installations or repairs. This application, available on a tablet, is currently used by more than 10,000 Orange technicians throughout the country – a resounding success!
This case perfectly illustrates Artefact's firm belief that to achieve true data maturity, companies have no choice but to make data accessible to everyone: not only to experts, but also to operational staff in the field. This will lead to new forms of augmented work, where applications and their interfaces put intelligent information in everyone's hands to work more efficiently and with more autonomy;
Listening to you, it's clear that data should no longer be a subject reserved for experts only. How does Artefact see the vision of data democratization materializing?
The companies that will endure are those that successfully foster a data culture with access to knowledge and data for all.
We've undertaken several initiatives in this area that are highly strategic to Artefact's positioning as a major player in data democratization, in order to fully exploit its potential for positive transformation.

The first was the launch of the Artefact School of Data two years ago, a key pillar in our strategy of providing clients with training adapted to the constantly evolving skills of the data industry. We're also developing "à la carte" e-learning platforms for clients to quickly share knowledge of data and AI with all of their employees.

And at the beginning of this year, we launched our Artefact Research Center under the leadership of Emmanuel Malherbe (class of 2008), to bridge the gap between fundamental research and its democratization for business applications, in collaboration with clients who provide access to their data and use cases. To achieve this, we have partnered with several renowned university laboratories, including CMAP and MEI at Polytechnique, to host PhD students at Artefact, who work on data model improvement and organization studies. They will publish scientific articles and participate in international conferences to share their knowledge.
These programs are just the first steps we're taking to democratize data and help our clients transform faster and better.  

After a year of robust growth in 2022, what are your forecasts for 2023?
After +50% organic growth in 2022, our objective is to maintain the momentum in 2023 with a sustained recruitment policy in France and in our 16 subsidiaries in Europe, MENA, Asia, North and South America. We've just deployed our Artefact Africa entity from Morocco and will soon open an office in Korea. We will also accelerate our development in LATAM and the United States.
Artefact's expansion also involves an ambitious M&A policy that will continue in 2023. In 2021, two acquisitions in particular enabled us to expand Artefact's portfolio of clients and services: the acquisition of Startup Inside, a pioneer in open innovation & intrapreneurship strategy consulting and international Data and AI conference organizer, and, more recently, the merger with the Arca Blanca group, a leader in data consulting in the United Kingdom.
We are quite optimistic about the future because even though the economy is currently strained, companies need to better understand the shifting environment and find rapid solutions for adaptation and progress through data.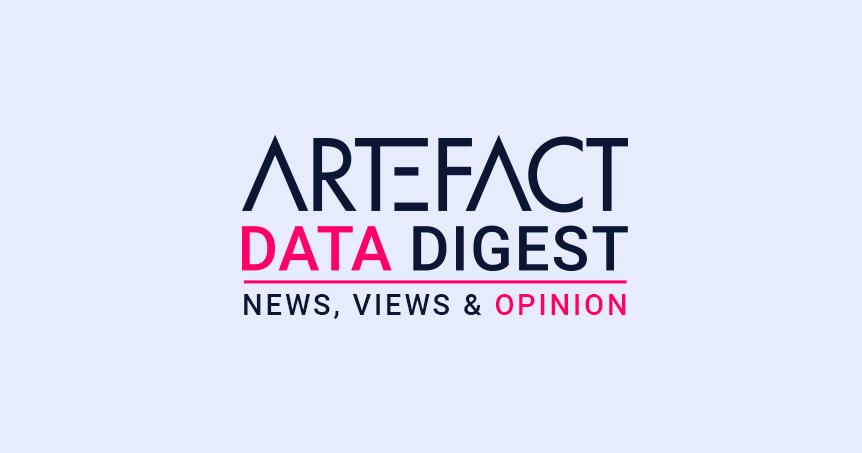 Interessiert an Datenberatung | Daten & Digitales Marketing | Digitaler Handel?
Lesen Sie unseren monatlichen Newsletter und erhalten Sie umsetzbare Ratschläge, Einblicke und Business Cases von unseren Datenexperten aus aller Welt!