Lucie Marchais, Head of CSR (Corporate Social Responsibility) at Artefact, tells The Good how this fully digital company, born seven years ago, is going green. Welcome to GreenFact.


THE GOOD: YOU'RE ONE OF THE PEOPLE WHO CAME OVER TO THE DIGITAL SIDE AFTER WORKING IN TRADITIONAL ADVERTISING…
Lucie Marchais: Yes, I started in strategic planning at BETC, but left a year later to join Artefact to work on strategic planning and consulting for data projects. After five years, during which I completed several missions related to environmental issues, I became director of CSR issues at Artefact Global last June.
TG.: WHAT DOES A STRATEGIC PLANNING EXPERT BRING TO A DATA COMPANY?
L.M.: Being a strategic planner in a company that uses data is interesting because even if we leave room for intuition and creativity, we have opportunities to challenge these "intuitions" with data analysis. The marriage of engineering and creative profiles leads to the best ideas in my opinion!
TG.: TELL US ABOUT GREENFACT… HOW DID THE ADVENTURE BEGIN?
L.M.: The starting point was internal. Many Artefact employees wanted to take the lead and be part of a collective approach to the environmental crisis. Like other signatories of the Climate Act, we decided to begin by carrying out our own carbon assessment. In this way, we became a more conscious and proactive agency on these issues.
TG.: WHAT DOES THAT MEAN IN CONCRETE TERMS?
L.M.:  We organised ourselves in the same way we do when working with our clients. Three of us led the project: Léonard Cahon, data consultant; Aurélie Chevallier, tracking consultant; and myself. About thirty people of all professions wanted to be part of it: accountants, data experts, media experts, creatives, consultants. So we created a multidisciplinary team where the volunteers took over a small part of the balance sheet calculation in small groups. We learned a lot by using an agile and iterative approach in the work.
TG.: YOU CAN'T JUST IMPROVISE. DID YOU THREE UNDERTAKE THIS TASK ALONE? OR WERE YOU ACCOMPANIED?
L.M.: Actually, we saved time on calculations by using a specialised SaaS solution: Aktio. It's a dashboard that integrates the emission factors of the ADEME carbon base. Our study scope covered the emissions of scopes 1, 2 and 3 of Artefact's activities in France in 2019 (prior to the pandemic).
For scope 1, we expected that the carbon emissions emitted directly on site as a result of our activity would be quite low.
Scope 2, which concerns indirect emissions, logically makes us intermediate emitters, as we buy electricity.
Scope 3 concerns all other indirect emissions. Employee transportation, purchasing, fixed assets, our digital footprint… Scope 3 calculation is the one we worked on the most!
TG.: THE PUBLIC IS BEGINNING TO UNDERSTAND THE CONSEQUENCES OF THIS DIGITAL IMPACT. WHAT ARE YOUR CONCLUSIONS ON THE SUBJECT, AS A DATA COMPANY, SPECIFICALLY?
L.M.: In fact, there is no market standard, everyone uses their own method… So it's very difficult to accurately measure a digital environmental footprint. We first worked on our use of cloud services, then on our media impact. These represent 85% of our carbon footprint. But this measurement is imperfect, and it is neither "generalisable" nor "comparable". Our challenge today is to get closer to our tech partners in order to imagine possible synergies for reducing our emissions.
TG.: WHAT GOALS HAVE YOU SET FOR YOURSELF?
L.M.: To act on what's immediately possible, in the three scopes we just talked about.
And to involve our clients in a green tech approach. Today, we're in the middle of the acculturation phase. We've set up an in-house climate portrait one Friday a month, a three-hour workshop that clearly explains the scientific causes of climate change. It's absolutely essential to be able to convince the public of what's at stake by making the subject less abstract. It's a process that begins with ourselves. The better educated we are on these subjects, the better we can defend them to the outside world.
TG.: YOU'RE ALSO WORKING ON INCLUSION…
L.M.: Yes. Today, you no longer need to be an engineer to become a data scientist. Data processing tools are increasingly simple and accessible. There will always be mathematicians to create models, but as far as our jobs are concerned, people need to be trained. And not just young people, despite what some think! Our Artefact School of Data allows people to become data scientists in three months. This training is aimed at volunteers who are willing to learn and who want to make a career change to data. We don't want to be the umpteenth training course to release its graduates into the wild. The courses are taught by our experts and our students are accompanied by HR and Artefact mentors on a path leading to employment, preferably with us!
TG.: WHO EXACTLY ARE YOU TRAINING?
L.M.: Personally, I work with associations that are likely to have participants among their members. Social Builder, for example, works for the integration of women in the digital sector. We also work on career transition. The public lacks information on the subject. There is a gap between opportunities and preconceived notions. Few people are aware that there are training courses in "numbers", in data, which don't require you to be a mathematician. Our mentors work with people who are far removed from tech, who, for example, may not have a high school diploma, have never studied data, and who feel that they are automatically out of the running. The task is enormous and information is crucial.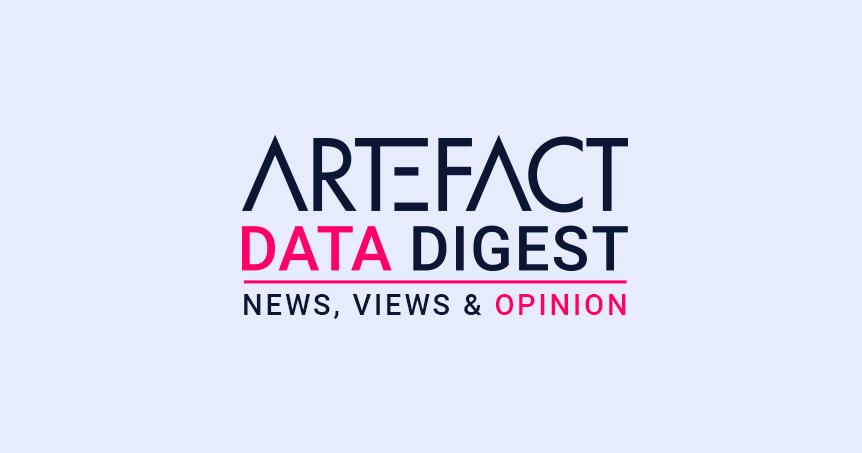 Interested in Data Consulting | Data & Digital Marketing | Digital Commerce ?
Read our monthly newsletter to get actionable advice, insights, business cases, from all our data experts around the world!