Découvrez l'interview de Natacha Kocupyr et Thomas Quélin, co-VP de l'agence data & digitale marketing d'Artefact, qui partagent leur vision de l'avenir de la profession et des spécificités d'Artefact sur le marché.
Quelles sont les principales spécificités d'Artefact ?
Thomas Quélin : Artefact est une nouvelle génération d'agence digitale avec la data et l'IA au cœur du réacteur. C'est l'essence même de notre nom de marque, l'alliance de l'innovation marketing (Art) à la science de la data (Fact). Notre accompagnement marketing stratégique s'appuie sur des modèles analytiques puissants qui nous permettent d'aller plus vite et plus loin. Quelque soit le pilotage des campagnes digitales que nous menons pour plus de 300 grandes marques, nos équipes d'experts media collaborent avec nos data scientists et analystes pour rationaliser au plus fin leurs investissements média omnicanal. Grâce à ces poches d'optimisation, nous pouvons proposer à nos clients de tester des nouvelles approches, notamment dans le Retail Media qui est en pleine explosion. Grâce à la mise en place systématique de ces groupes de travail pluridisciplinaires, nous cassons les silos traditionnels entre les différents médias, et nous construisons des synergies notamment entre le SEO et SEA avec une offre de service de "Full Search".
Des nouveaux services et des actualités récentes ?
Natacha Kocupyr : Nous avons déployé depuis le début de l'année de nouvelles offres à forte valeur ajoutée pour nos clients. Une offre CDP (Customer Data Platform) qui est devenue stratégique et incontournable pour les annonceurs dans un contexte réglementaire et technologique très évolutif et contraignant. En effet, afin de relever le défi de la disparition des cookies tiers qui réduit les capacités de ciblage des consommateurs et freinent l'utilisation de stratégies courantes comme le retargeting, Artefact accompagne ses clients au déploiement de Customer Data Platforms. La mise en œuvre d'une CDP permet de collecter et analyser tous les flux de données propriétaires (1st party: données CRM ou de navigation) et 2nd party en provenance de partenaires. Ces données issues de différentes sources permettent ainsi de reconstituer une vue unifiée du consommateur et ainsi d'exploiter leur plein potentiel pour une stratégie d'activation média très performante.Une offre de maintenance et d'optimisation des flux produits pour prendre de meilleures décisions d'achat sur Google Shopping mais également sur d'autres outils d'achat comme Facebook Business Manager ou DV360. Il s'agit d'un enjeu majeur pour nos clients ecommerçants, qui, en renseignant les caractéristiques clé de chaque produit dans le flux (ex : promotion, saisonnalité, niveau de marge, prix des concurrents, etc) vont orienter positivement les algorithmes des outils d'achat branchés à ce flux, et ainsi obtenir des performances de ventes supérieures à leurs concurrents.
Par ailleurs, nous avons ouvert deux bureaux aux Etats-Unis, l'un à New-York, l'autre à Los Angeles. Cette expansion nous permet de servir des clients internationaux aux quatre coins du globe, soit de façon décentralisée (stratégie et achats média réalisés localement), soit de façon centralisée via des hubs régionaux, avec la même qualité de service.
Enfin, nous avons construit un Centre d'Excellence Digital Media en Europe, basé au Portugal, avec notre partenaire Webhelp, leader mondial dans les centres de services aux clients, afin de regrouper le meilleur des compétences digitales et pouvoir piloter avec efficacité des campagnes cross-canal. Cette organisation permet de rationaliser les investissements média grâce à une approche holistique multi-pays et multi-langues.
Comment l'agence conçoit-elle l'avenir de sa profession ?
Thomas Quélin : L'avenir de notre métier passe par notre capacité à être de véritables partenaires business sur le long terme, quel que soit le modèle retenu par l'annonceur. Qu'il s'agisse d'externalisation complète de la stratégie et des achats média, d'un modèle hybride ou de l'internalisation des compétences digitales chez le client, notre métier est de créer de la valeur chez le client.En fonction de l'évaluation de la maturité digitale de l'annonceur, notre approche conseil permet de préconiser les modèles organisationnels et les outils adéquats, toujours en s'adaptant à l'écosystème de l'entreprise et à ses spécificités. Notre objectif est de créer un partenariat vertueux en apportant une méthodologie de travail rigoureuse et agile, avec la garantie d'une expertise toujours à la pointe avec les plus hauts degrés de certification AdTech et MarTech (Google Marketing Platform, Facebook Ads, Amazon Advertising, Microsoft Advertising,…).
Ce modèle vertueux passe aussi par une totale transparence des coûts sur la chaîne de valeur média, par une indépendance vis-à-vis des partenaires technologiques et média et par la mise en place d'une rémunération indexée sur le résultat.
Cet accompagnement stratégique data-driven, cette maîtrise des dernières évolutions media et technologiques, ainsi que l'exploitation maximisée des données donnent une vraie puissance de frappe aux campagnes digitales que nous opérons.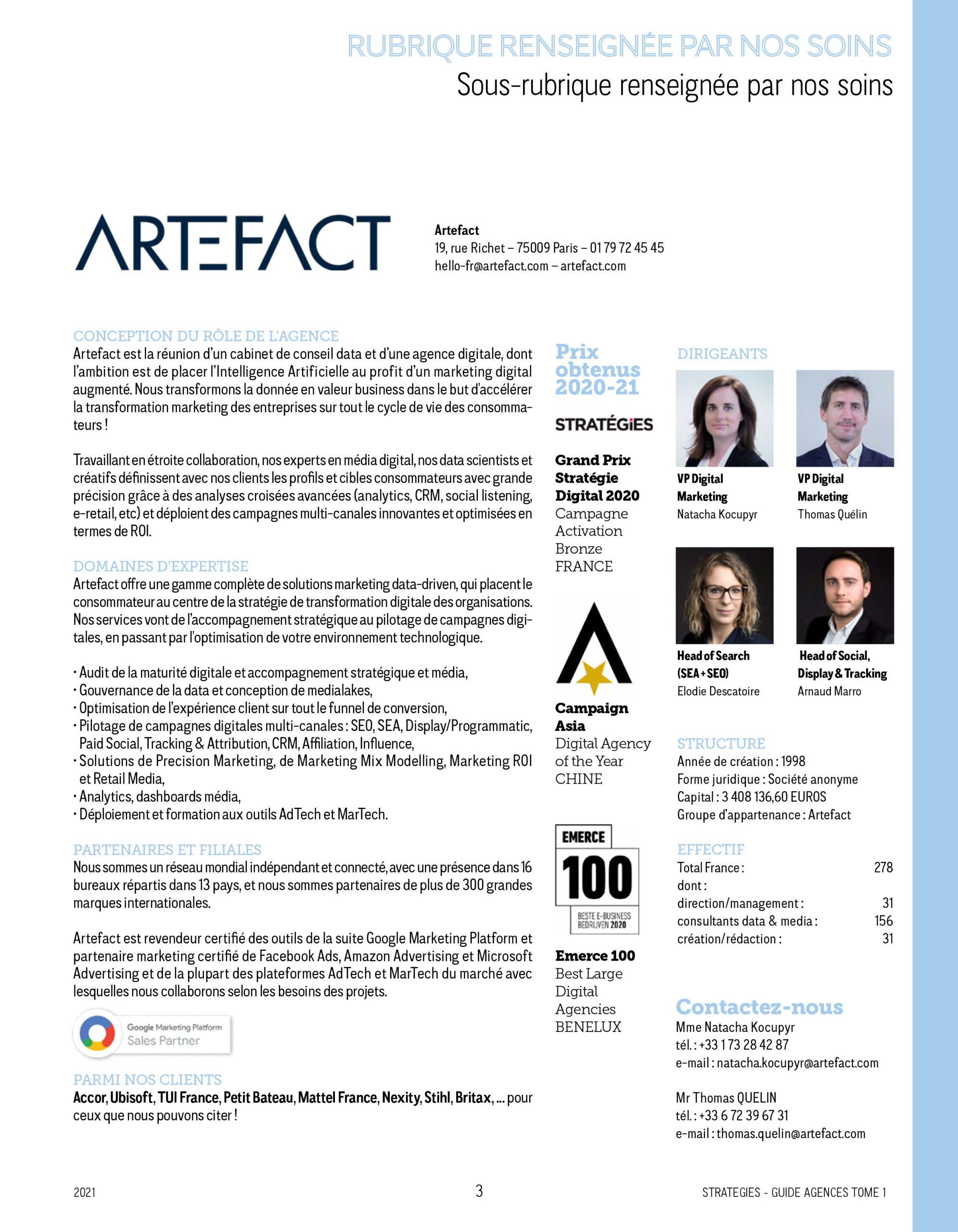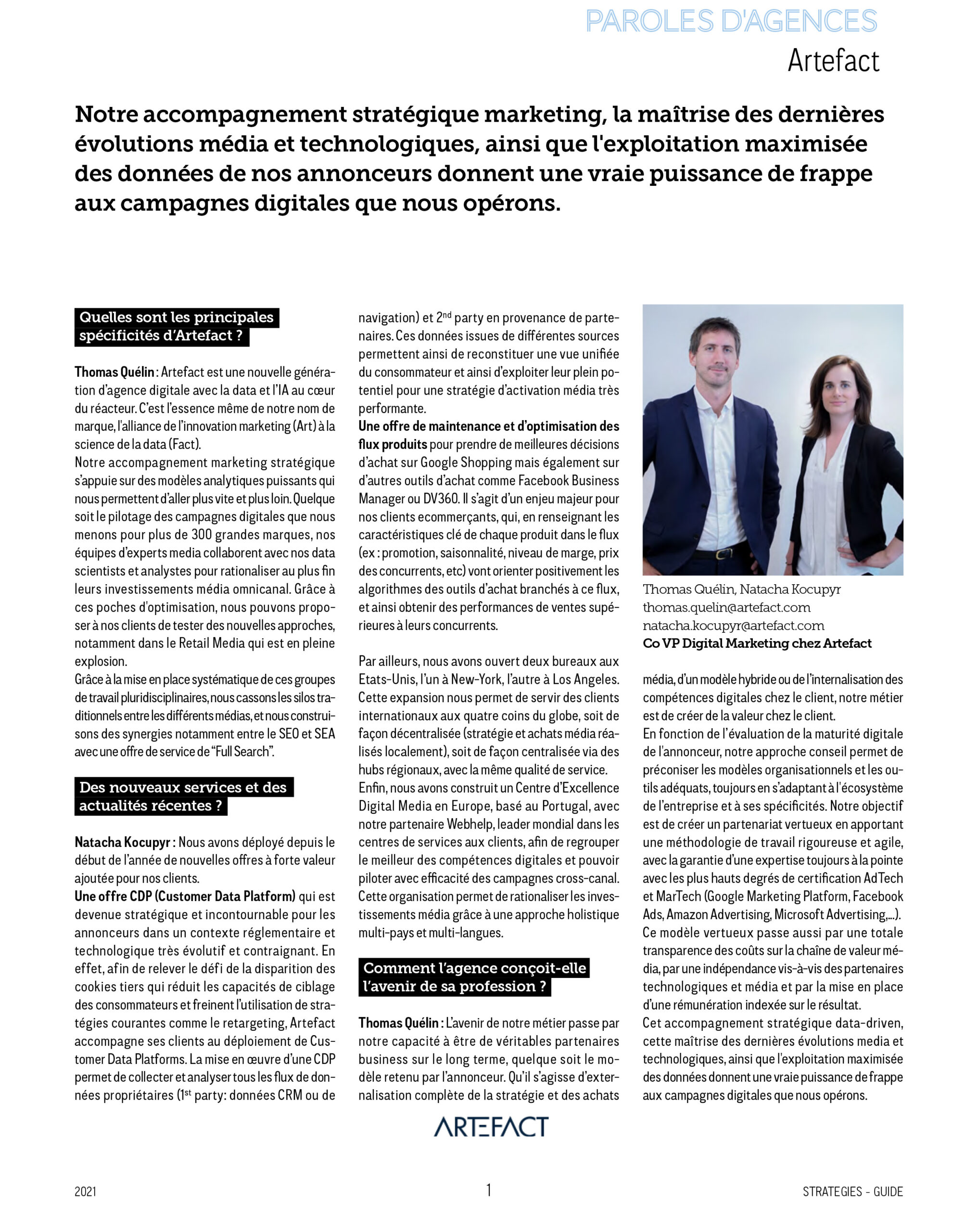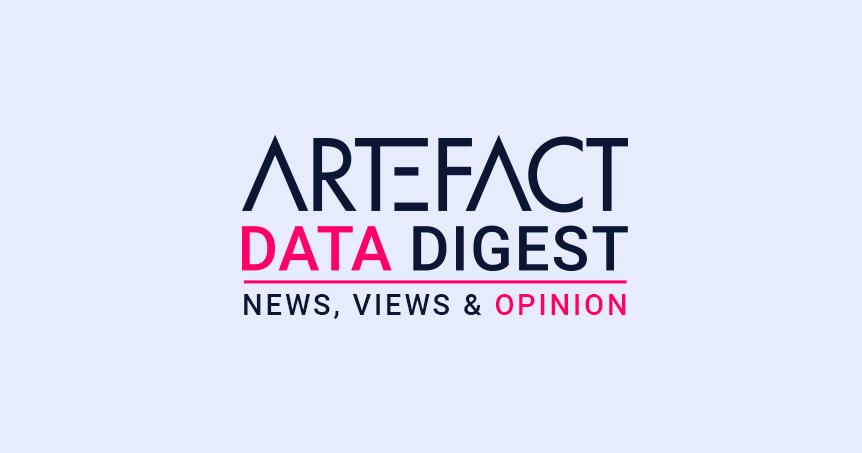 Interested in Data Consulting | Data Marketing | Digital Activation?
Read our monthly newsletter to get actionable advice, insights, business cases, from all our data experts around the world!