The French agency Artefact (800 people), which specialises in business transformation through data optimisation, has just opened an office in the United States with high ambitions. Vincent Luciani, Artefact's co-founder and co-CEO with Guillaume de Roquemaurel, explains the agency's vision and how the crisis is changing the needs of brands.
The challenges facing brands are increasingly complex, and their needs are now hybrid. How is Artefact positioned to respond to them?
We're an agency focused on business transformation and digital marketing, with an activity centred on data usage – that's our response to the complexity you mentioned: we want to be the champions of data-driven digital activities. Our business covers data-driven transformation (consulting, project design and development, organisation, governance, etc.), data marketing (technologies, tools, training) and digital marketing (e-commerce, CRM and social CRM, media buying and consulting). We can have areas of competition with the major networks of communication agencies or large consulting firms, but the actors who most resemble us are undoubtedly Jellyfish (Fimalac) and S4 Capital (Martin Sorrell).
Our agency has about 800 people worldwide. 250 in France, 150 in China, 100 in Germany and 100 in the United Kingdom, 50 in the United Arab Emirates (in Dubai), 50 in the Netherlands, a hundred or so in Spain and Brazil, and a few in the United States, where we opened an office in New York, in April, to complement our existing Los Angeles sales office. We're aiming to have around 100 employees in the US by 2025, accounting for 10% of revenue. About 80% of our clients are CPGs and retailers: Carrefour, Samsung, Reckitt, Danone, L'Oréal, Unilever, etc., with problems linked to DTC ("direct to consumer", brands whose objective is to create a direct link with the consumer, ed.), particularly via their proprietary data and e-commerce. Google and Orange are also clients.
Has the crisis changed brand behaviour and expectations?
Yes, it's created an awareness among brands for a need to accelerate their digital transformation. Many projects in this area were validated at the end of 2020 for implementation in the first quarter of 2021 – admittedly often a little later than initially planned – but companies have understood the importance of their investments in digital and especially transformation projects.
Brands used to be satisfied with pilot projects. But the acceleration of the digitalisation of consumption caused by the health crisis has led them to implement more structural and ambitious projects. They last longer – two to three years as opposed to one to two – and have bigger budgets, and larger and more hybrid teams. And these projects are more integrated. The digital directors we work with today are experienced. The average level of maturity on these issues within companies has increased significantly in recent years. They now hire digital consultants, as well as data analysts, developers, AI experts, etc.
What issues are the most important to your customers?
Broadly speaking, they have a lot of questions about data, whether in terms of management, use or acquisition. Data is an extremely important asset if it's well used. For example, it allows a company's production needs and stock management to be precisely estimated by anticipating consumer demand ("demand forecasting", ed.). We can design and build this in-house at the client's premises using open source APIs, with no need for large technological infrastructure.
A major issue that often arises is how to optimise e-commerce use. Over the past year, every brand has increased its digital presence and wants to sell better through this channel. This creates a lot of competition for consumers' attention, with a resultant explosion in online acquisition costs. Especially on Amazon. Brands faced with this situation now need to address three issues: how to differentiate themselves to outperform the competition? How to manage their budget investments and measure correctly to make the right choices for promotion and marketing? How to handle the new legal and technological challenges of first-party data environments? In each case, data can provide answers.
"Our ambitions in the United States are significant; we're aiming for around 100 employees in 2025 for 10% of revenue."
Another important issue is consumer insight, as third-party cookies are set to disappear. How can a brand continue to know and target the right prospects?
Companies will have to develop a connection with their consumers. And it's what our customers are already asking us for. This is a necessity as it's estimated that e-commerce will account for 50% of all commerce by 2025, a large part of which will be carried out within the ecosystems of Google, Amazon and Facebook, even though they will deliver less data. The Holy Grail for a brand will increasingly be to generate first party data, and consequently to ensure that a significant percentage of its customers are logged into its world. This will be less difficult for big brands, which can rely on customer relationships already in place and set up a native first-party data environment around them, but it is still very complicated for all players. It's a crucial issue for all companies.
There will undoubtedly be less consumer data available, but it will be of better quality. To continue to generate and exploit it, we will have to develop second-party data via partnerships and alliances with alternative players to share data. We're working on three levers for this. In China, we've formed a partnership with Alibaba – we are its only partner among the companies that aren't members of a large agency network – to cross-reference our data. In France, we've formed another partnership with Carrefour to access data from its Carrefour Xperiences data-sharing programme, which is useful for studies and activation in retail media in the Carrefour online universe or outside. These are tools whose data can be used to improve the supply chain and category management (sales optimisation, ed.).
The issue also concerns data use and measurement. How can we continue to monitor online user behaviour and campaign performance in the world without third-party cookies that's coming?
The first way is through secure environments or consent targeting. Contextual targeting is expected to grow, although improvements still need to be made. Google's Privacy Sandbox, with its cohort-based measurement logic instead of one-to-one measurement, will no doubt be important here to continue targeting. For the moment, there's little information on the exact nature of the sandbox and its effects. The second way is through logged environments: here, platforms obviously have a significant advantage over the rest of the market. There will be work to be done with clients' CRM programmes and APIs for interfacing with technology actors. Finally, mathematical models should be developed around media mix modelling. But there are obstacles to overcome: a lot of data is needed; the models aren't very granular and need to be worked on over a long period of time (often six months); they're sometimes complex or even opaque and give results whose causalities are often difficult to determine.
Why did you just open an office in the US, where the market is very competitive? What are your ambitions in that region?
We opened an office in New York in April to complement our existing sales office in Los Angeles. Our international customers requested it. The office is headed by Ghadi Hobeika (he was formerly Marketing Director of Fnac-Darty in France and more recently Sales Director of the Unibail Group in the United States). The American marketing and digital transformation market is huge, and it's more competitive and vertical than in France, where our field of activity is very horizontal; we need to create a balance. Our ambitions are significant; we're aiming for a hundred employees in the US by 2025 for 10% of revenue. We believe we have a number of assets: an already solid portfolio of clients; expertise in data usage, which is easier to deploy in the US because players are more accustomed to sharing it and partnering with specialised suppliers; and we can rely on our internal expertise, particularly that of our developers.
"Training is the major issue for agencies today."
The sector had a very complicated year in 2020. How did the crisis impact your agency?
There was no significant economic impact on our organisation. The company achieved a gross margin of 70.3 million euros in 2020, with a pro forma growth rate of 10%. We weren't much affected by the cut in advertising budgets because our business consists mainly of structuring projects that our clients were wise enough not to interrupt, whether in technology, data, organisation, etc. In terms of the economy, it's the post-crisis period that looks the most uncertain: we'll have to remain vigilant. State aid to companies will cease (from July, and gradually for certain sectors), macroeconomic tensions will affect companies and there will be bankruptcies… The crisis is likely to be deep; unemployment will increase. This could have an impact on our customers.
Internally, the impact has been felt more in HR. The most difficult thing has been to maintain human contact due to distancing, and to keep everyone mobilised because of the social context and health uncertainties. Consulting is a human profession involving face-to-face interaction and human relationships. Even if we know how to adapt, we can hardly replace these things for long periods. A major challenge, and one we've been facing for several months now, is how to motivate and re-engage employees. We have a lot of employees between the ages of 25 and 27, and they need to find meaning in their work and projects. Confinement was more difficult for them.
Many agency employees are still working from home full or part time and have been doing so for over a year. How do you keep employees engaged with the company, even though agencies traditionally see high staff turnover?
The priority is to ensure employees feel as comfortable as possible in their daily work. This is our role on a human level, but it's also more efficient for operating the company. It involves a whole series of actions that we, as managers, can take: maintaining good operational management both with regard to our employees and in the implementation of projects, developing regular dialogue, as well as continuing to train employees and ensuring that they develop their skills. Training is the major issue in agencies today. This is why we provide a learning management system (LMS) with training workshops based on more than 500 programmes we either developed in-house or purchased.
Promoting employee engagement also involves decentralising the company. With 800 people in the world, management can't see to everything within the company, including France where we have 250 to 300 employees. So we've decentralised the company: an increasing number of decisions are taken "downstairs", at the most appropriate hierarchical level, depending on subject or need. CSR is also an important lever for mobilising our employees. Beyond the sole mission of generating profits, we consider that the company has a social role and can take action in public life and on social issues. We want to apply our data expertise to subjects related to society, such as the representation of diversity, the ethics of algorithms, or the place of women in tech companies, etc. We want to act alongside our employees on these issues, but without imposing upon them: they must be free to choose whether they want to participate or not if any initiative is to be successful.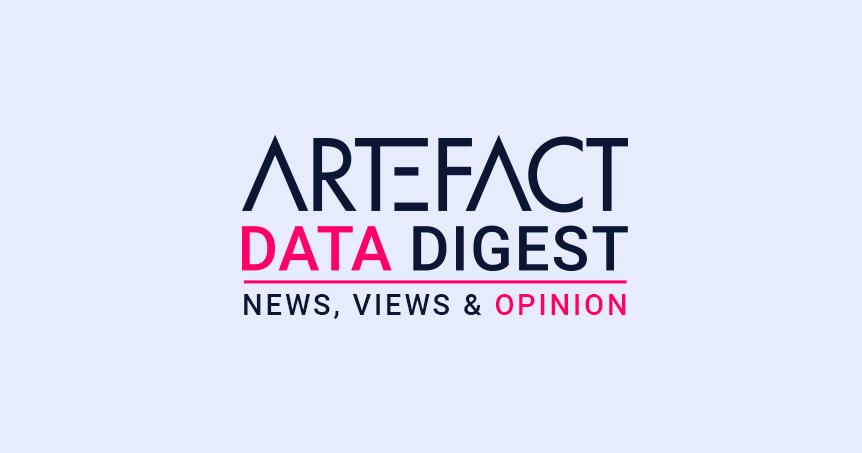 Interested in Data Consulting | Data & Digital Marketing | Digital Commerce ?
Read our monthly newsletter to get actionable advice, insights, business cases, from all our data experts around the world!