The world is becoming ever more aware of AI's potential. There is real momentum, evidenced by the race for global leadership in artificial intelligence.
A race for global leadership
According to Gartner, the global economic value generated by AI is expected to reach .9 trillion by 2022*
The world is becoming ever more aware of AI's potential. There is real momentum, evidenced by the race for global leadership in artificial intelligence.
In the last two years, many countries and governmental bodies (Canada, China, Denmark, the European Commission, Finland, France, India, Italy, Japan, Mexico, the Baltic States, Singapore, South Korea, Switzerland, Taiwan, the UAE and the UK) have published government strategies to promote both the development and use of artificial intelligence.
Each strategy is specific, supporting scientific research, talent, skills development, education and adoption by public and private sectors through new standards and legislation. In early 2016, the Canadian government was the first to build a strategy around AI, distinguished by its exclusive focus on research and attraction of talent. The Japanese government, the second to propose a national strategy, presented an action plan in 2016 that prioritised application areas: health, industry, call centres, agriculture and mobility. The UAE government launched its AI strategy in October 2017 and was the first to create a ministry dedicated to artificial intelligence.
The European Commission's strategy
The European Commission is dedicated to a joined European approach to AI, focusing on improving the research and industrial capabilities of the EU and ensuring that AI is used for the benefit of European citizens and the economy. Three key elements structure the shared European initiatives around AI:
Developing the EU's technological and industrial capabilities for AI in public and private sectors

Preparing Europeans for the socio-economic changes brought by AI

Ensuring the establishment of an ethical and legislative framework
The EU is committed to increasing investments from €500 million in 2017 to €1.5 billion euros by the end of 2020.
An AI on-demand platform 'AI4EU'
As the race for artificial intelligence is of both strategic and economic importance, the European Union has joined forces to ensure competitiveness and create favourable conditions for the development and use of AI. European AI-on-demand platform, 'AI4EU'4, will be put in place to reduce barriers to innovation, stimulate the transfer of technology and support the growth of start-ups and SMEs in all sectors. Initiated in January 2019, it will allow access to a multitude of resources around AI in a one-stop-shop that includes expertise, algorithms, software development tools, data and computing capacities. It will also facilitate project financing, training and certifications at all expertise levels.
China's strategy
In June 2017, China, the United States' leading challenger in the AI world leadership race, revealed its ambitions: "A Next Generation Artificial Intelligence Development Plan". China created this plan for 2030, positioning AI as the catalyst for internal and external development. The plan also fosters the growth of national AI champions and ensures China's leadership on the international stage.
China's strategy is one of the most comprehensive, covering support for R&D, industrialisation and talent development (education, skills etc.). It also helps to position China as a leader in laws, regulations, and ethical and security standards, and enables China to actively participate in the global governance of AI.
The strategy is broken down into three steps:
align the industry with the competition by 2020

achieve "world leader" status in some areas of AI by 2025

become the leading AI innovation hub by 2030
By the end of the development plan, China's AI industry is expected to be worth 0 billion, and its related industries 0 billion. The government will also create a .1 billion technology park for AI research in Beijing.
United States' strategy
President Donald Trump's White House takes a free-market approach to AI. In May 2018, it invited industry, academia and government representatives to an AI summit.
At this event, the government's four objectives were:
maintain US leadership in AI

support American workers

promote public R&D

remove innovation barriers
To achieve this, Michael Kratsios, Chief Technology Officer and Deputy Assistant to the Government, announced the creation of a new Ad Hoc Committee to advise the White House on R&D priorities and on federal partnerships with the industrial and academic world.
Another feature of US policy is the evolution of regulatory barriers, facilitating the innovation and growth of US firms around AI. According to a report by Govini (a recognised business intelligence firm), in 2017, the Pentagon spent about .4 billion on AI and related domains (big data and cloud). Beyond this unclassified budget, the US military has also invested several billion dollars in R&D.
Leadership strategies are developing in a frantic race to capture the value of AI and its associated skills. Beyond this competition, collaborative initiatives are also emerging.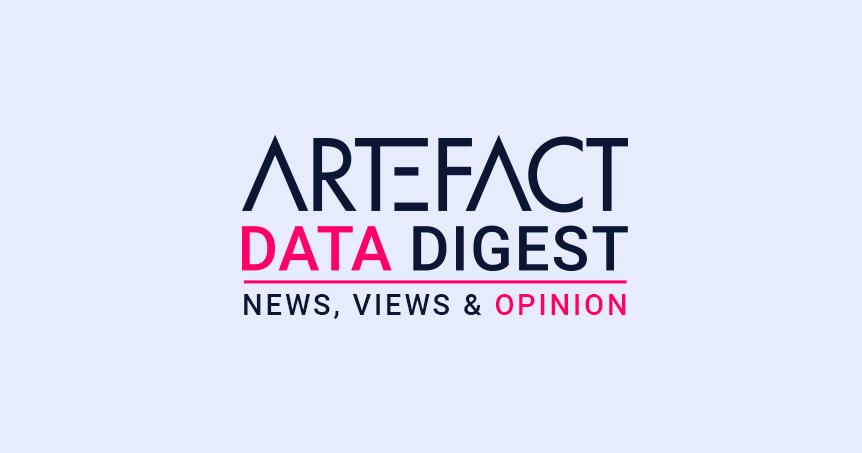 Interested in Data Consulting | Data & Digital Marketing | Digital Commerce ?
Read our monthly newsletter to get actionable advice, insights, business cases, from all our data experts around the world!