6.84€
average cost per purchase
3.4x
average cost per purchase on Snapchat vs. other social platforms
The Story | Partnership with Snapchat
Petit Bateau
, an iconic apparel brand, had an objective to grow its e-commerce business in France by investing in digital platforms where it could leverage its audience data to improve targeting and maximize ROI.
To reach this objective, Petit Bateau, advised by
Artefact
, partnered with Snapchat to reach the 25 million monthly active users that use the app every month in France with an e-commerce campaign.
The Solution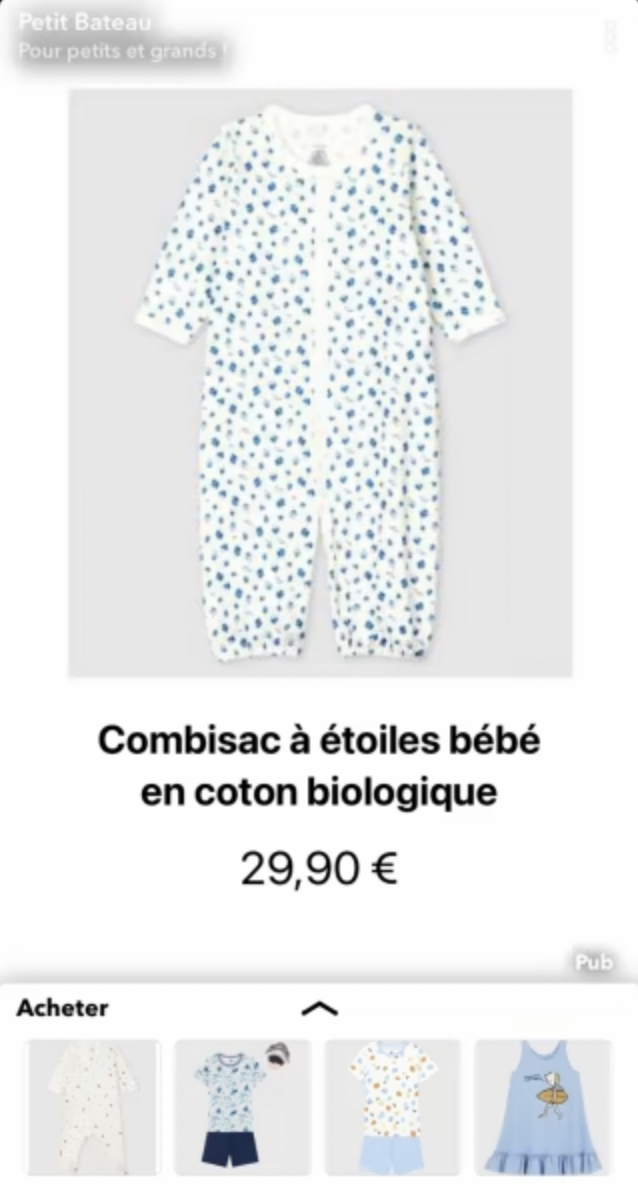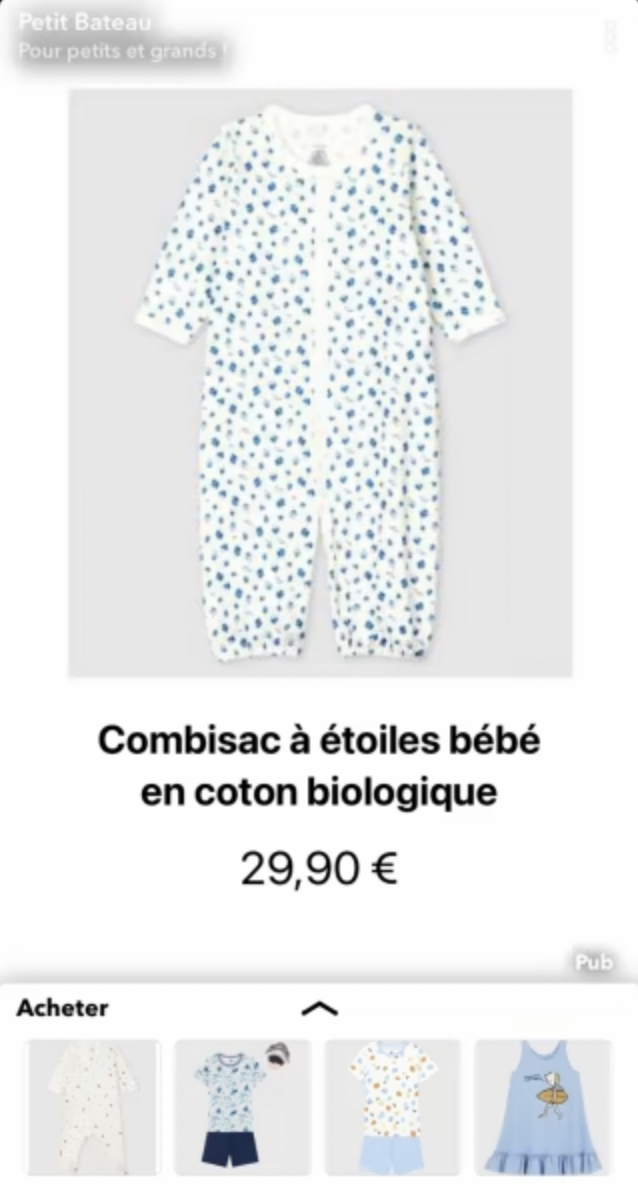 To ensure the best performance, Petit Bateau made full use of the features offered by the Snap Pixel. With it, Petit Bateau was able to leverage its first party data to target different audience segments, website visitors and buyers, and serve creative based on this data. Using Snapchat's 1st party data, Petit Bateau also built lookalikes for each of their audience segments and targeted them in acquisition and retargeting campaigns.
Petit Bateau also made use of Snapchat's Goal-Based Bidding Pixel Purchase to optimize for performance, using the Dynamic Product Ads format, powered by Petit Bateau's catalog. Using the DPA format in Snap Ads, Story Ads and Collection Ads, Petit Bateau was able to increase the relevance of every ad impression on Snapchat, leveraging their whole catalogue of products to create the most relevant ad for each member of the Snapchat community.
The Results
Snapchat demonstrated its power to target the users that are the most willing to buy on Petit Bateau's website thanks to their best-in class set-up campaign.
The results were a true success: not only did Snapchat manage to generate high value sales by generating a 15.75 ROAS, but Snapchat also allowed Petit Bateau to drive economic conversions, with a Cost Per Purchase of 6.84€, which is 3.4 times more competitive than other platforms used for campaigns with the same objective in the same time period.¹
"Snapchat's Dynamic Ads format helps make sure our products are seen by our target using a performance-based strategy that generates high ROI. Today, the smartphone is a key platform in the path to purchase: with Dynamic Ads, we can drive purchase intent at the beginning of the user journey, and ultimately convert these prospects into customers."

Julien Guerinoni, Traffic Manager – Petit Bateau