21 January 2021
Vincent Luciani, co-founder and co-CEO of Artefact, looks back on the past months, how the company has adapted, and how data knowledge moves up the value chain of enterprises.
Interview in French by Emmanuel Gavard, journalist at Stratégies magazine.
How was 2020 for your company?
We're lucky because our business is compatible with remote work and what we do is transformative for the post-COVID world. Clients need a lot of data and have to be ready to measure and analyse new consumer behaviours, so we've been approached a lot this year to help companies reorganise and transform. As a result, we haven't lost any growth and are in good shape for the coming year.
Our strategic redeployment on consumer centricity was essential.
Geographically speaking, between Europe and China, not all zones were affected at once. So half of our offices stayed open. And even during times of quarantine, our turnover wasn't hard hit. Clients who were at a standstill, in tourism, for example, came to us for background projects, data cleaning and reboots. Others, such as supermarkets, called us to better gauge what was happening in the stores, to better understand behaviours in order to adapt stocks.
What are you seeing in the market?
There are diverse situations. Traditional media players have suffered greatly as many advertisers have slashed their budgets, but comprehensive and long-term transformation projects haven't been halted. The rise of digital technology is changing everyone's practices. It's impacting personnel management, and completely disrupting schedules.
Much work needs to be done on forecasts, flows and sales.
Every organisation has been shaken up due to the crisis and its aftereffects. Everyone's had to fast-track their reorganisation, but with less money. E-commerce is exploding. We spoke to a food industry leader who's aiming for 50% of sales on digital soon. This would have been unimaginable not long ago. Tomorrow, he'll manage his own stocks, carts and distribution… It will change his entire way of communicating.
are you structuring yourselves in this context?
We've evolved a lot since 2019. Today, we're structured around three offers. We still have our digital media activity – our historical activity. Then we have marketing support (data consulting, management of first- and second-parties, performance…), everything that relates to customer knowledge, whether tools or methodology.
But what we develop most is our « transformation » activity – it's what enables companies to be data-driven, to have a vision, integrate AI… We're focused on this concept of consumer-centricity. For us, it's the big change that's coming.
What is it exactly? We've been hearing about it for a while now…
The concept is gaining ground in more and more companies, and we're seeing that those who apply it the most thoroughly are performing better after the crisis. It starts with having a B2C approach: developing the ability to talk and sell directly to the consumer, personalising the media strategy, and, most importantly, moving up the value chain.
Meaning further upstream from the sale?
Exactly. Historically, the supply chain was determined by « sales in », or sales made directly at the store. In the future, it won't work that way. The distributor and his order will no longer directly determine my production and flows. Because by being closer to the consumer, I can send my needs to the factories in a different way, and adapt the entire supply chain to this new information. It's called demand sensing. It requires rethinking process design, automating product order predictions, etc. And it's particularly interesting when you combine it with retail media, by forming data partnerships with retailers.
All this knowledge is made available to the brand to design better production plans. We launched a program in a major industry last year. The software automatically calculates the right quantity to produce on a daily basis. And this way of working is anchored in our customers' IT and propagates everywhere. Our job is to collect the best information to determine the most accurate orders for the next day and to disseminate it throughout the ecosystem.
And that's just a short-term goal?
We used it for the L'Oréal Trend Detection project, for example, to help the design department. The aim is to analyse demand in the coming years by detecting weak signals. 75% of the trends that the tool has detected, which were previously undetected, have been deemed relevant. We analyse influence groups, laboratory work, emerging influencers… And in this body of millions of texts, we identify tiny elements that may be relevant.
What's interesting and shows the importance of this method is that companies no longer do POCs (Proof of Concept). We start at scale right away, working with the clients' IT. We move immediately to the concrete. Because the tools are more efficient, and customers are much more knowledgeable about these subjects.
You've reorganised as well, haven't you?
After we acquired Netbooster in Europe, we had a period of very robust international growth in China and the Middle East. We worked with Guillaume de Roquemaurel on corporate liberation. With 300 people in France, our continued growth would have been complicated if we remained centralised. So we gave more autonomy to decision-making centres, and they can now self-manage their staff. Team maturity is quite high for these models. There are many people who want to upgrade their skills and take on new responsibilities.
Customer demand has also changed and become much more specialised. Today, we're no longer looking for « data scientists », but specialists in NLP (Natural Language Processing), and instead of data engineers, we seek Google Cloud specialists. Even if I understand 50% of complex subjects, there comes a time when, as a manager, I can no longer keep up. I have to admit it. Training teams to be autonomous, to know the products, and to be specialised has been one of the major focuses of our transformation. You can't manage 50 people the way you manage 300 or 900 people around the world… You have to let things happen and listen to customers and those who are in contact with them. We do what we do because our clients ask for it. We're consumer-centric too!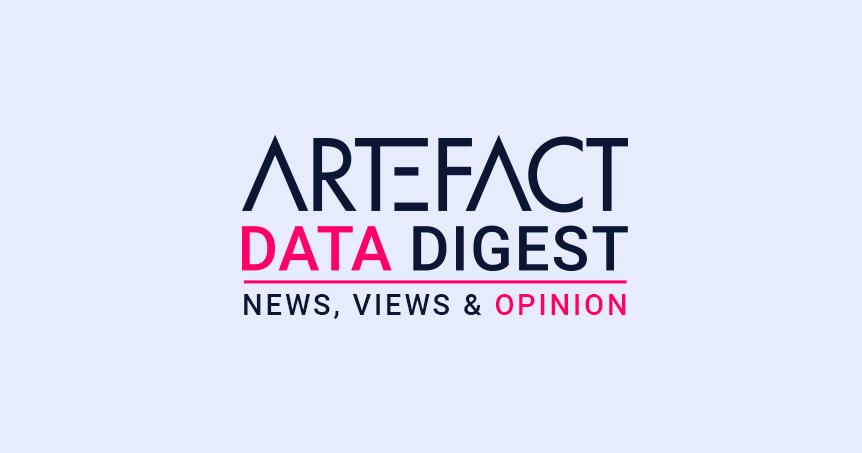 Interested in Data Consulting | Data & Digital Marketing | Digital Commerce ?
Read our monthly newsletter to get actionable advice, insights, business cases, from all our data experts around the world!