Conferences and demonstrations at the Artefact booth will illustrate the impact of data, AI and open innovation on the business of companies
Paris, June 1, 2023 – From June 14 to 17, Artefact will be one of the exhibitors at VIVA TECHNOLOGY 2023, Europe's biggest event for innovation and new technologies, where 91,000 participants from 146 countries are expected. With a comprehensive program of conferences and demonstrations of AI solutions developed for customers such as Orange, Artefact illustrates how AI and data are creating a business impact across the entire enterprise value chain. 
Artefact is a French player in data transformation and data marketing consulting and has become one of the global leaders in the sector in less than eight years. Artefact currently employs 1,300 people in 20 countries (in Europe, Asia, the Americas, the Middle East and Africa). It is one of the largest recruiters of data and AI consulting jobs, having recruited 500 people in 2022, and aims to reach 3,000 employees by 2026.
Artefact conference agenda, every hour from June 14 to 16
During the first three days of VivaTech, reserved for professionals, Artefact will offer a series of 20-minute conferences – See the leaflet for the complete program.
9:30 – 9:45 / 14:15 – 14:30 | Using an AI visual recognition solution for augmented customer service – ORANGE client case.
10:15 – 10:30 | Recruiting and engaging technology and data talents with hackathons.
11:00 – 11:15 / 15:45– 16:00 | Deploying Data Marketing use cases to do more with less: Long live Customer Data Platforms! – STELLANTIS client case
11:45 – 12:00 | Identifying and prioritizing data use cases through hackathons.
12:30 - 12:45 / 16h30 - 16h45 |开发生成式人工智能解决方案以加速业务。
13:30 – 13:45 / 17:15 – 17:30 | How to get employees onboard through effective data governance.
15:00 – 15:15 | Democratizing the use of AI through training with the Artefact School of Data –AXA client case.
18:00 – 18:15 | Initiating the decarbonization of an industry via a data hackathon.
June 15th, from 9:30 to 10:00 a.m. – Paul Midy, Member of Parliament for the 5th constituency of Essonne, will speak on "The Midy Mission to the government supporting investment in innovative start-ups & SMEs: presentation of measures".
与我们的合作伙伴微软和谷歌合作,不断展示生成式人工智能服务,补充了会议程序。
With these conferences, Artefact highlights the main challenges met by the companies it supports thanks to AI:
How does Orange optimize its call center to deliver premium customer service?

How can audiences be targeted and engaged in the cookieless era?

How can companies maximize operational performance?

How can effective data governance be adopted; how can a data culture be instilled in all employees?

How can hackathons be used to drive corporate innovation and internal data acculturation?
带有微软和谷歌演示终端的两个角落让Viva Tech的参观者能够发现基于生成式人工智能技术的解决方案。
两个实时动画将展示生成式人工智能技术如何在短短几秒钟内生成最先进的服务:
"Knowledge open AI Agent" on Microsoft Azure Open AI to create a conversational agent from a company's website content and FAQs in a matter of minutes.

"YouTube GenAI Agent" with Bard AI and PaLM 2 to create social listening reports by scraping (extracting) YouTube videos. This solution gives companies detailed knowledge of Internet users' emotions and perceptions of their video content in just a few moments.
此外,Artefact ,为部署在客户现场的嵌入生成性人工智能技术的创新解决方案提供持续的示范终端。
June 17 is reserved for the general public. The day is dedicated to the presentation of Women@Artefact, an initiative aimed at increasing the number of women in the data professions, and to the Artefact School of Data, a specialized training program within Artefact and "in the field", featuring mentoring by the company's data experts to prepare professionals – in just a few months – for many data-related professions. By the start of the 2023 academic year, the curriculum will be supplemented with a course devoted to generative AI. The Artefact School of Data has trained over 4,000 people since its creation.  Its 86% employability rate is a testament to the effectiveness of Artefact's courses and teaching methods.
Event information: VivaTechnology 2023
Dates: 14 – 17 June 2023
Place: Hall 1 – Paris Expo – Porte de Versailles
Booth: Artefact M20
关于Artefact
Artefact 是一家专门从事数据转换和数据与数字营销咨询的国际数据服务公司,其使命是通过在整个价值链中提供切实的结果,将数据转化为商业影响。
Artefact's unique approach, which bridges the gap between data and business, enables our clients to achieve their business objectives in a dedicated and efficient manner. Our 1300 employees combine their multidisciplinary skills to help companies innovate their business. Our cutting-edge technologies in Artificial Intelligence and our agile methods guarantee the success of our clients' AI projects, from design to deployment, including training and change management. Covering Europe, Asia, North America, Latin America and Africa through our local presence in 20 offices, we work with leading international brands such as Orange, Samsung, L'Oréal, or Sanofi worldwide.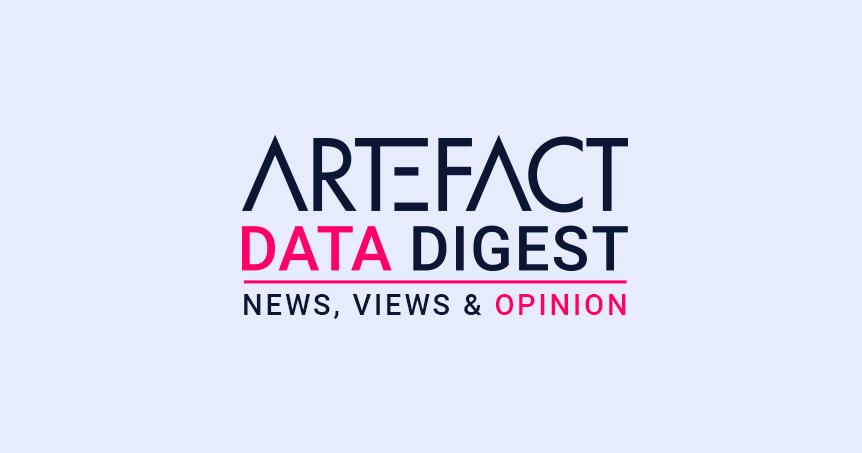 Interested in Data Consulting | Data & Digital Marketing | Digital Commerce ?
Read our monthly newsletter to get actionable advice, insights, business cases, from all our data experts around the world!