Data transformation has been a hot topic in the business world for almost a decade, but it's gained even more importance since the constraints imposed by COVID-19. Lockdowns made it a priority for companies to improve their agility and accelerate their data-driven decision-making processes. Yet few companies today are equipped to take full advantage of rapidly evolving digital technologies while also mastering the challenges that come with it.
Data transformation isn't just about disruption or technology. It's about value, people, optimization and the ability to rapidly adapt when needed through the intelligent use of information and technologies such as automation, AI, advanced analytics, IoT, AR, and VR, and more.
There are several persistent myths about data transformation that stakeholders or employees sometimes believe. At Artefact, we counter those myths with fact-based realities. These realities enable us to guide and support our clients through data transformation so that the entire company accepts and embraces the transformation.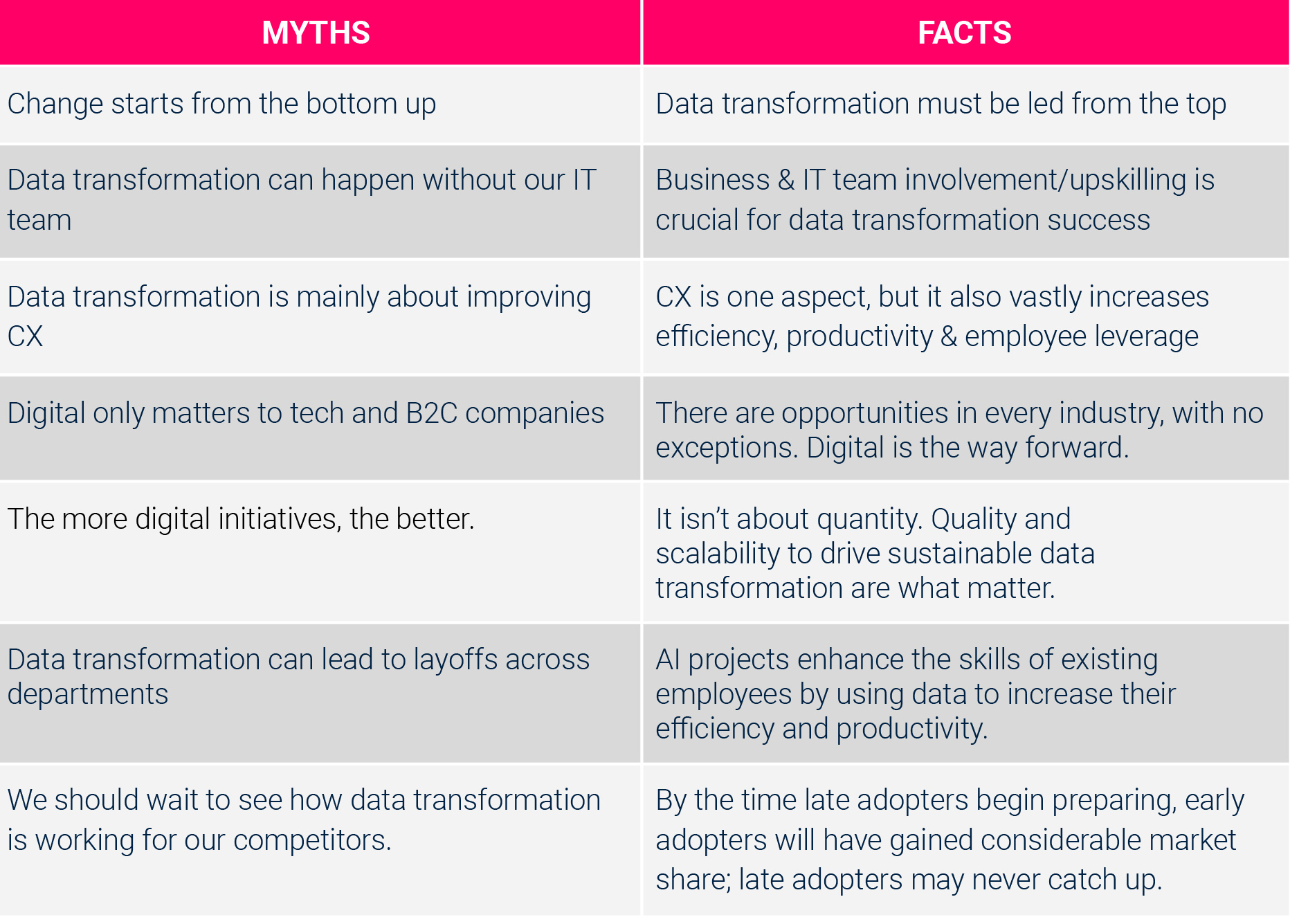 Over the past several years, Artefact has supported many clients through their data transformations. Below, we draw upon our experiences working with some of these B2B and B2C clients from diverse industries, in order to explain the steps companies need to take to ensure scalable data transformation.
Step 1: Adopt the right strategy for your project's size
Many overly ambitious projects fail due to heavy investment and low ROI. Conversely, some companies proceed too cautiously without integrating with other upstream or downstream processes and miss opportunities by setting too small goals. At Artefact, we use an Audit approach to help our clients set up the ideal strategy:
We begin by identifying their current digital maturity across various pillars: strategy, digital marketing channels, tools & tech, data, operating model, People & Governance, Data governance and Measurement.

Next, we identify business use cases that can be implemented across departments to drive data transformation.

Then we define the right roadmap and identify the PoC/multiple quick wins to align objectives with the client's business goals.
Step 2: Choose the best metrics for measuring ROI
Once you've identified the main use cases you want to implement, you need to develop metrics to holistically measure their performance. What does success look like when you meet your objective? What do you need to track and analyse to gather the right data?
For projects that cross functional and business boundaries, change the way a company presents itself in the marketplace and often fundamentally reshape interactions with customers and employees, this is easier said than done.
For example, if you're trying to improve customer experience, you may monitor the net promoter score (NPS) of customer service representatives. Or, if you're adopting a digital workplace for increased efficiency, you might measure the number of separate apps your employees are using to complete their daily tasks. If employees are switching among 10 different tabs a day, does this affect their level of distraction and produce a higher error rate?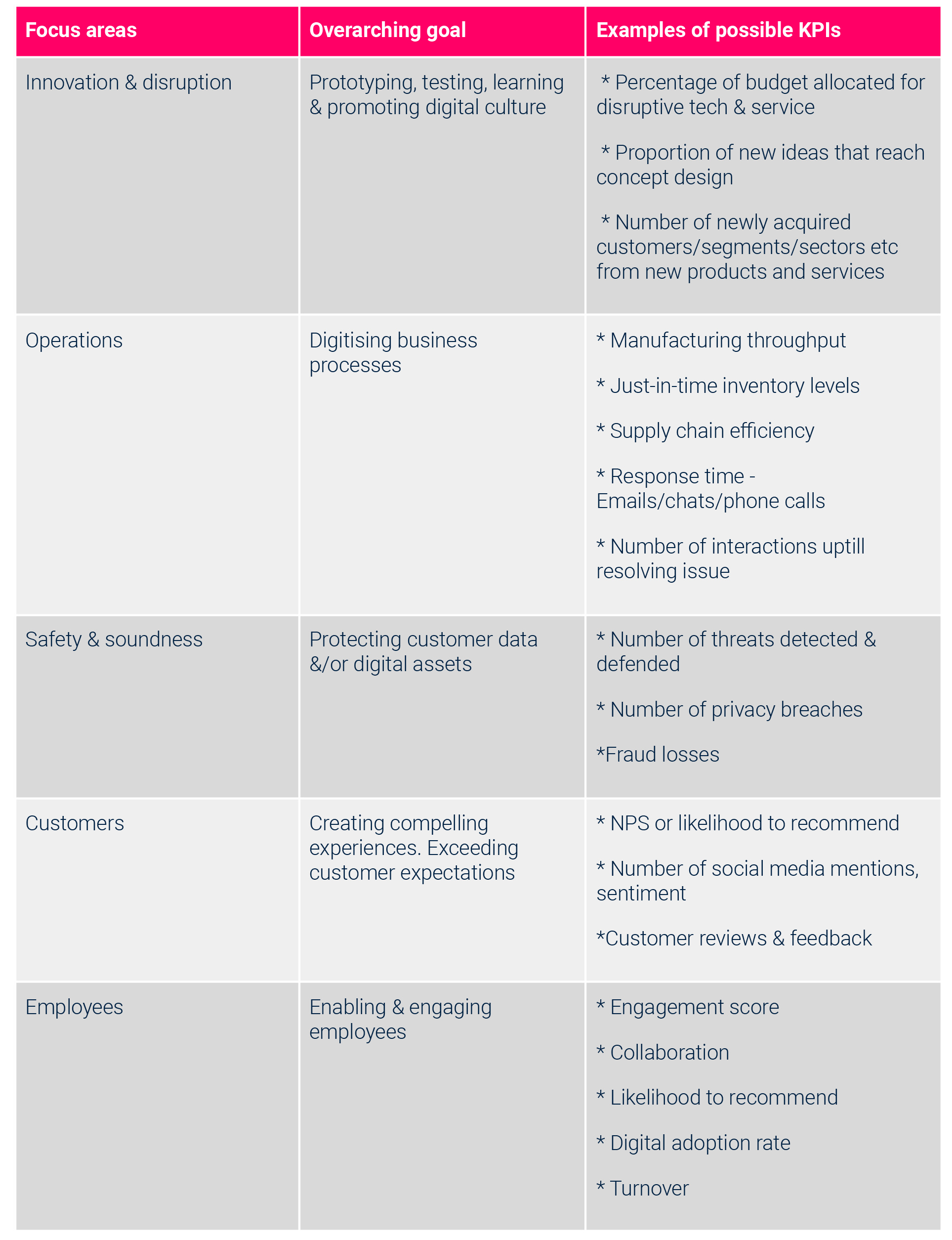 Step 3: Keep testing until something works
If you're not failing, you're not pushing boundaries. You should have at least two or three proofs of concept across departments to test which one brings maximum ROI to your business and is scalable to different markets. And make sure your business processes are set up correctly to meet the requirements of the digital era.
At Artefact, we help clients define their operating processes and map their entire business landscape, classified according to the impact of digitisation and integrated into an end-to-end digitisation process. Each PoC is run by feature teams, which must be piloted in a completely new way, shifting from the rigid, hierarchical processes of yesterday to agile, results-oriented and technology-driven working methods of the digital era.
Step 4: Industrialise proven use cases, modify failed ones
Once your selected PoCs have shown positive value, it's time to plan for scalability. How can you create a minimum viable product (MVP)? Which markets are top priority for implementation? What will a scalable tech architecture look like? With rapidly changing technologies and upcoming regulatory changes, it's crucial to devote time to defining a data architecture that can adapt to change with minimal effort. No one wants to invest millions only to find out that the solution's great but the technical architecture causes major processing delays or that certain data sources can't be integrated due to technical limitations.
Don't become discouraged by failed PoCs, as every failure is a stepping stone to new opportunities. Carry out a PoC retrospective with all stakeholders to understand if there are changes that can lead to the success of your failed PoC with even better objectives.

Step 5: Make change management a priority
Maslow's Hierarchy of Needs states that there are five levels of human needs that allow an individual to feel fulfilled, ranging from the physiological to the emotional. It's often applied to the workplace as a means to ensure the needs of employees are met. In other words, for a transformation project to be truly successful, it must support your employees and meet their individual needs at every stage of the process.
Your Digital Business Strategy must communicate the right story, focal points and vision that change will bring. The importance of this point is underestimated by many companies. With AI projects in the works, employees worry about being replaced or being unable to understand the new technology. That's why investment in change management is crucial for a company undergoing data transformation.
Make sure that every single person understands the strategy and the role they have to play in creating the new vision. Explain how their contribution will be measured and validated. Give them the tools, training and support they'll need to achieve their personal goals and explain how they can advance their careers by transforming themselves through this new opportunity. The real added value comes when a company's employees understand, adapt to, and, hopefully, appreciate the new changes in their daily lives.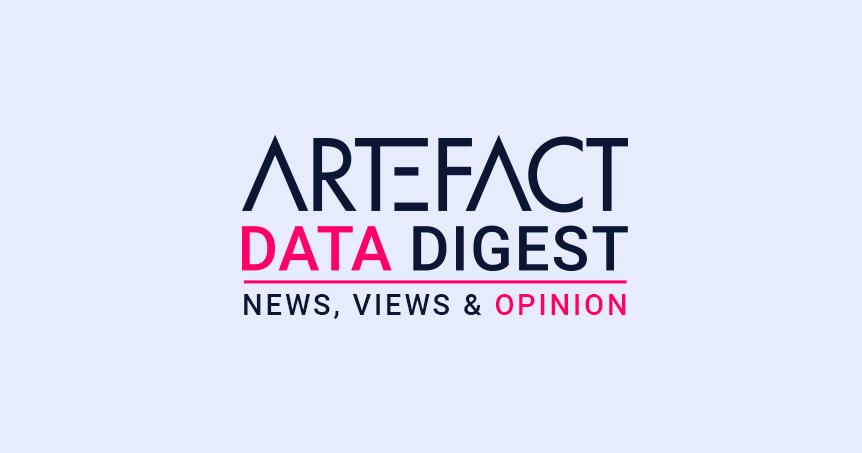 Interested in Data Consulting | Data & Digital Marketing | Digital Commerce ?
Read our monthly newsletter to get actionable advice, insights, business cases, from all our data experts around the world!