About Liberty London
Liberty London is a world-renowned luxury department store, known for its close connections to art and culture, as well as its bold and floral print fabrics. Liberty also champions young and innovative designers, playing an essential role in the growth of many now prominent brands in the world of men's fashion, women's fashion, beauty and homewares.
The Challenge: Improve Liberty London's new product reach for their Beauty Drop subscription service
When it launched its new Beauty Drop subscription box service, which offers members four curated selections of beauty products each year, Liberty was seeking ways to extend the reach of this new product offering and ensure a successful launch.
Artefact currently manages Digital PR and Outreach for Liberty, which work together to general valuable backlinks from authoritative and relevant external websites that boost a site's Domain Authority (DA), resulting in improved site visibility and ranking s that increase brand awareness and drive more traffic to websites.
To help Liberty, Artefact's Digital PR team knew they needed to create a campaign offering the kind of high quality, original content that online publications are likely to link back to. Key aspects of their approach included:
Creating on-site content which journalists will want to link to add value to their stories

Targeting specific media demographics with precise angles to secure links

Developing interactive assets such as data-led reports or design-led visuals which are likely to earn both quality and quantity links
The Strategy: Offer a Dream Job to the product's most likely users via a Digital PR competition
Artefact identified a number of other brands that successfully promoted their products via competitions to become product testers, such as a wine taster, a holiday reviewer or a food critic. "dream job" or "product tester" competitions often draw press and public attention, offering consumers the holy grail of being paid to test their favourite products.
Artefact created a landing page and competition for consumers to apply to become a tester for Liberty beauty products, as part of the Digital PR for the launch of the Beauty Drop. The campaign was then promoted to the press, which in turn directed links back to the Liberty London website to increase organic SEO performance as well as user-generated content.
"Artefact made this campaign a great success, the team understood our business objectives and in turn delivered a successful campaign that achieved our SEO objectives, driving traffic and revenue uplifts to our Beauty category"
Mwaka Kalawo, Liberty London
Applicants were invited to send videos of themselves explaining why they wanted to win the Dream Job competition and what it would mean to them. Their entries were then judged, offering another rich opportunity for press coverage.
The Results: Massive national campaign coverage leads to organic success
Coverage of the Digital PR campaign was a resounding success, with placements in major national newspapers such as The Metro, The Herald and The Mail, as well as lifestyle-orientated publications such as Money Magpie and You Magazine.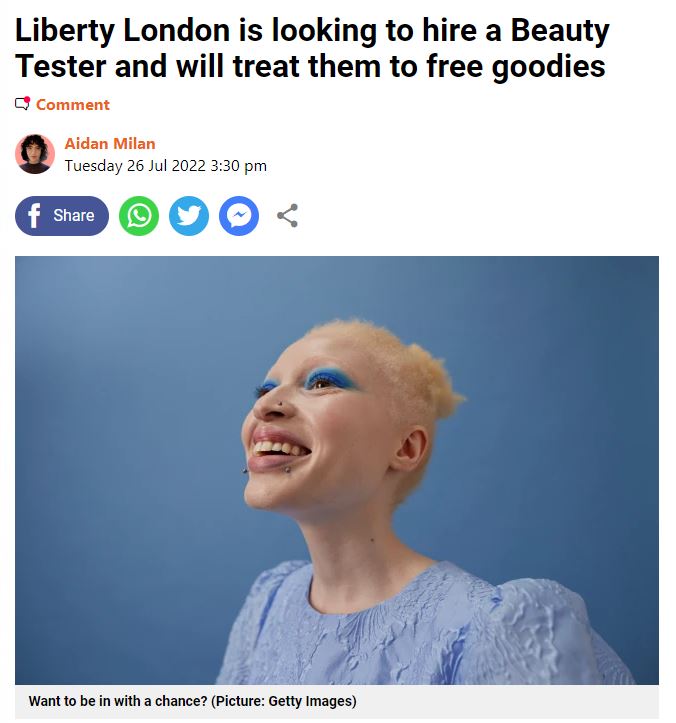 This coverage created 52 links back to Liberty's site, which improved site visits, exposure and awareness of the Beauty Drop product launch, prompting 2,215 landing page visits.
The campaign results in a +35% increase in organic traffic to the beauty section, leading to a +6.35% increase in revenue, 31% of which came directly from the Beauty Drop page (traffic and revenue). This was driven by impressions for the Beauty Drop rising from an average of 2852 in April to June, to 5,936 in September, a 108% increase. Clicks followed suit, increasing 42% over the same period(s).