The measurement landscape is constantly evolving, and most businesses are adapting to new ways of tracking data from their websites and apps. Google Analytics is a powerful tool that helps businesses and organisations track and analyse their online traffic and user behaviour. The latest version of Google Analytics, Google Analytics 4 (GA4), represents a significant shift from previous versions and introduces several new features and capabilities that make it even more useful for businesses to translate data into value.
Four phases to consider when migrating to GA4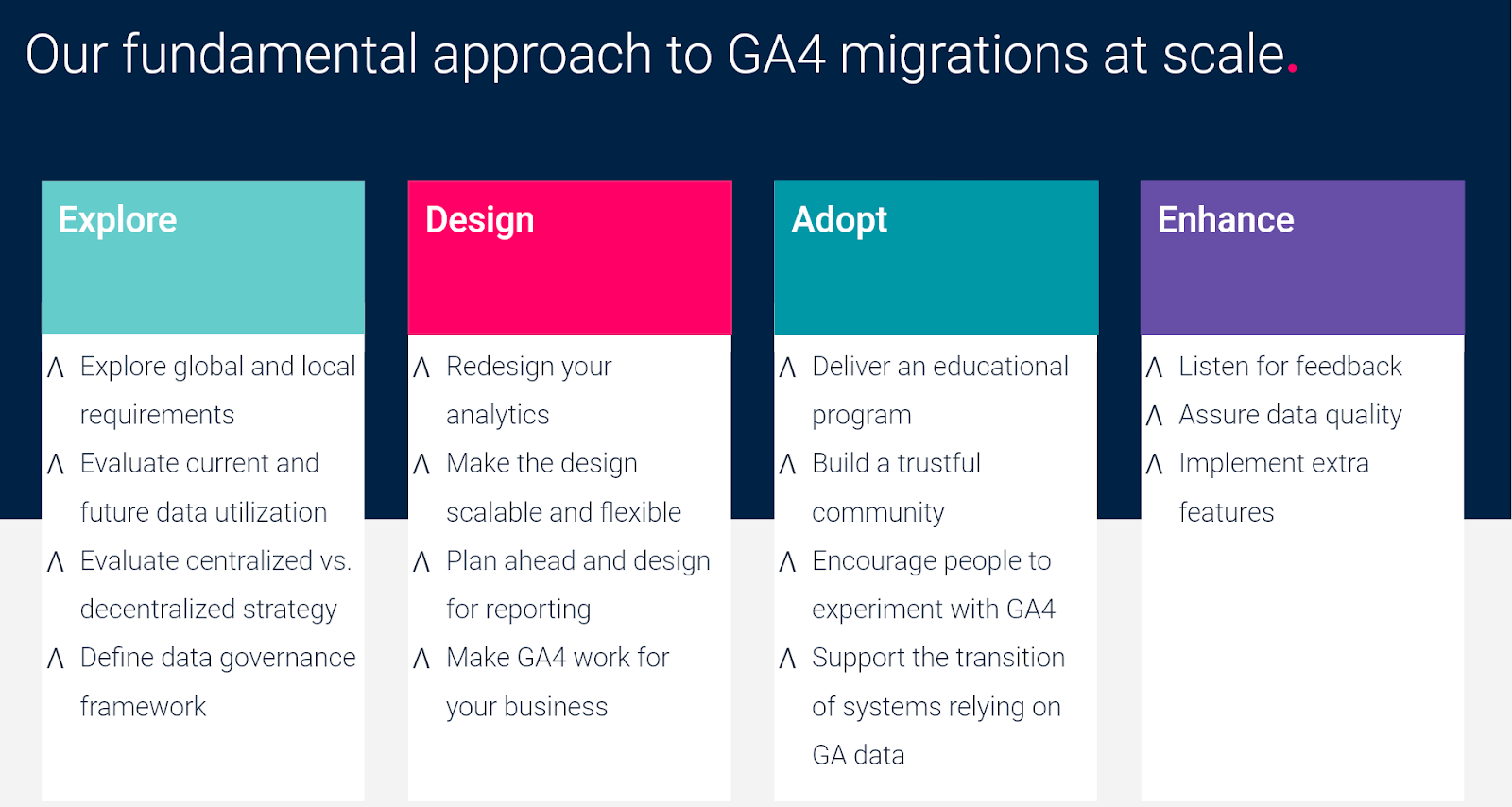 1. Explore
The exploration phase is where the migrating to GA4 begins. It's the moment when you start exploring your future needs and defining new requirements. If your business is active on multiple markets, it's important to define your KPIs and listen to the demands of local teams. This phase is also relevant if your business is small and located in one country, as there might be multiple stakeholders and product owners that use Google Analytics data on a daily basis. By now, you'll be familiar with every stakeholder's needs; this will help you evaluate how data will be used in the short and long terms. Based on the outcome of your exploration, it is vital to decide whether to have a centralised or decentralised approach to your data collection framework. Questions you should ask yourself include: "Are my business KPIs and requirements similar across every market?", and "How much personalisation should we allow for each market when setting up new GA4 properties?
2. Design
Once the exploration phase is complete, it's time to move to the core of your migration: the design of GA4. This is the ideal time to rethink your data and redesign your analytics, if needed. A fresh start with a new tool represents a perfect opportunity to improve your data maturity. In addition, redesigning your analytics strategy is also a chance to enhance the way you collect, analyse, and act on data. Ensuring that your data infrastructure is scalable is also essential to ensure you can effectively handle migration to a new tool and the subsequent growth of your data collection. More details about this phase are in the section below.
3. Adopt
During the adoption phase, it's important to build a community of trust to encourage people to adopt GA4. Some important consideration to keep in mind:
Communicate openly and transparently about the data being collected and how it will be used. This will help build trust and understanding among community members.

Educate community members about the benefits of using GA4, including how it can help them better understand their audience and make informed decisions.

Provide resources and support to help community members learn how to use GA4 effectively. This could include training materials, tutorials, and support from experts.

Encourage community members to share their own experiences and insights with Google Analytics. This can help build a sense of community and encourage others to get involved.

Regularly review and iterate on your analytics strategy to ensure it continues to meet the needs of the community and address any concerns or issues that may arise.
4. Enhance
Once adoption is widespread enough within your organisation, it's time to start collecting feedback from your community and main stakeholders. The objective is to enhance your data collection framework, make adjustments and find areas of improvement.
This phase should be used to update the events you're collecting, or create new explorations and customise the GA4 interface. A regular review will also help in understanding when to add new features that will help you take full advantage of GA4 modelling, by implementing Consent Mode, for example.
Customisation and naming conventions
When migrating to GA4, you can bring added value to your business by adopting standardisation while also providing flexibility to customise your setup.
Standardisation and flexibility are important considerations for your data. On the one hand, standardisation helps ensure that data is collected and analysed consistently, allowing for more reliable and accurate insights. It minimises the risk of errors or inconsistencies in data, helps advance the organisation's data maturity and brings uniformity into your reports.
On the other hand, flexibility is equally essential for incorporating new data sources and adapting to changing needs and goals. Flexibility is vital for ensuring that an organisation's data management processes remain relevant and effective over time.
Striking the right balance between standardisation and flexibility is necessary for the future of your data.This should be taken into account when allowing multiple GA4 properties to have slightly different setups and events, or when helping local agencies implement their own events and parameters.
Best practices for event structuring
1.颗粒度
GA4允许你从一个新的、更细化的数据模型中获益,通过使用为你的事件添加额外信息的参数来重新设计你的报告,比如说。
如果你的网站有用户可以提交的在线表单,你可以利用这些参数来跟踪form_id、form_type和form_name等信息,这将为你的所有报告增加更多价值。思考如何建立和使用报告和仪表盘也很关键,因为在活动结构化阶段,你可以根据你的业务需求和转化率对GA4进行个性化定制。
由于GA4放弃了事件类别、行动和标签的概念,它提供了非常理想的新的灵活性,但重要的是要记住避免使用类似的参数,因为这将使用户更难采用新的数据模型。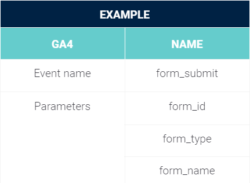 2. Scalability
To allow scalability to your new setup, it's crucial to keep a flexible approach when designing your event structure. This means allowing for some customisation in the use of parameters, or defining a naming convention that takes different scenarios into account. For example, at Artefact, we use an approach where we include the action taken by users as a verb at the end of the event name; this can change based on the interaction.
Another point worth mentioning is that parameters in Google Analytics can be reused for multiple events. In the example above, the parameter form_type, could simply become type, which will allow it to be added to other events. This parameter then can be configured as a custom dimension and its value will dynamically populate the relevant event.
3.避免高基数cardinality
在设计迁移到GA4时,你应该记住高cardinality是如何工作的,以避免在你的报告中出现只显示"(其他)"值的行。值得注意的是,GA4对单个维度没有限制,但添加到每个维度的值会影响你的报告。例如,为了避免高的cardinality,你应该。
Avoid using unique IDs per user in a custom dimension;

Avoid using a custom dimension for unique IDs per session;

Avoid sending a timestamp.
尽管如此,如果你确实遇到了显示"(其他)"行的报告,你可以使用 "探索",在那里你可以要求进行未取样的探索。
High cardinality affects reports in different ways: default reports are designed for smaller tables (up to 50K rows), while explorations have higher limits (up to 10M events in the standard version of Google Analytics, and 1B events for the enterprise version), thus reducing the possibility of reaching the row limit.
Three key points for success when migrating to GA4
请记住,多个团队和利益相关者将受到从Universal Analytics迁移到GA4的影响。这表明了规划阶段是多么重要。因为新的工具看起来很熟悉,但也更灵活,它将对每个GA4用户产生积极的影响。同样重要的是,要尽快开始教育组织,举办介绍性的培训课程,展示谷歌分析中的变化以及公司报告数据的方式。

When designing the new GA4 tracking setup, you should always remember to take present and future events and conversions for your business into account; this means allowing flexibility and the use of parameters in your naming convention.

如果你是一家大型全球公司的一部分,采用一个新的分析工具会带来各种不同的挑战,如调整报告以适应新的数据收集模式,以及配置新工具以服务于你的业务需求。幸运的是,通过应用本博客中分享的最佳实践,你将能够使GA4为你的业务服务,而不是相反。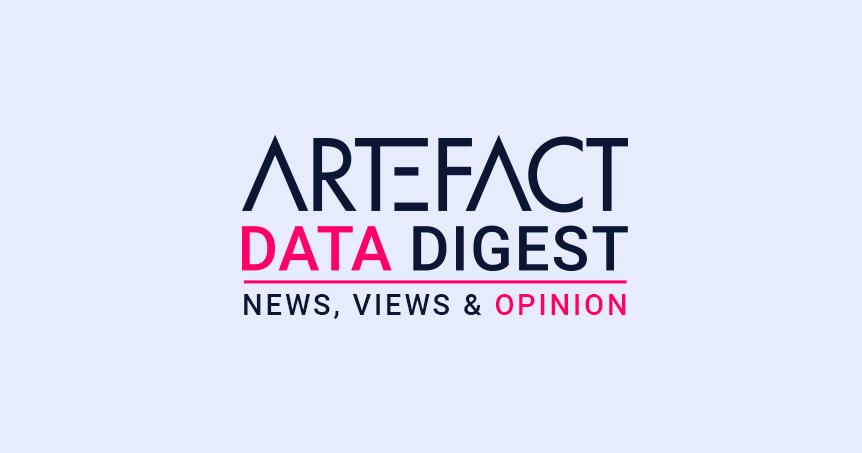 Interested in Data Consulting | Data & Digital Marketing | Digital Commerce ?
Read our monthly newsletter to get actionable advice, insights, business cases, from all our data experts around the world!