This article is part of our Artefact Data for Tourism eBook.
As several countries in MENA and elsewhere strive to strengthen their positions as global tourism destinations and travel hubs, data analytics and intelligence have become crucial to establishing global presence and gaining competitive edge. In fact, data can help emerging destinations break the growth deadlock by driving marketing excellence, stimulating supply creation and improving visitor experience.
Introduction
From a high of ~ 1.5 billion international tourist arrivals in 2019, travel plummeted to almost nil as the COVID-19 pandemic suddenly and devastatingly brought the industry to a standstill. Prior to the pandemic, tourism had become one of the world's major socio-economic sectors, with 2019 export revenues amounting to USD 1.7 trillion, equivalent to 28% of global trade in services and 7% of overall exports of goods and services.
Among the hardest-hit were tourism-dependent countries and emerging tourism destinations with fewer economic and technical resources to respond to the crisis: "In a sector that employs 1 in 10 people globally, harnessing innovation and digitalization, embracing local values, and creating decent jobs for all—especially for youth, women, and the most vulnerable groups in our societies—could be at the forefront of tourism's recovery," says Secretary- General of the World Tourism Organization (UNWTO) Zurab Pololikashvili.
Despite their growing appeal for tourists, few studies have analyzed the economics of tourism in emerging destinations during the early stages of their life cycle, with the literature focusing mostly on more established destinations. Emerging tourism destinations have significant potential; however, policymakers and managers in these destinations still need to make considerable efforts to transform cultural assets and attractions into attractive tourism products that can compete in global markets.
To enable emerging tourism destinations to make their mark on the global map, data-driven decisions on a multilateral basis must be made. There must be political will, clear destination positioning, "intelligent" strategy, and targeted investments in the sector to unlock the unique potential of these destinations. "The return of tourism will allow these communities to get back on their feet not through aid but through sharing their culture, their heritage and their hospitality with the world once more," affirms Pololikashvili.
Source: UNWTO inbound tourism database, UNWTO press releases, Artefact library of tourism data use cases, desktop research of tourism data and digital initiatives.
The growth deadlock of emerging tourism destinations
According to the UN World Tourism Organisation (UNWTO), the tourism sector has made an impressive recovery: over 900 million tourists travelled internationally in 2022, double those in 2021. Furthermore, in Q1 2023, an estimated 235 million tourists travelled internationally, more than double those in the same period of 2022.
While emerging destinations grew their share of international tourist arrivals post-covid compared to 2019, especially in the Middle East (9% in Q1 2023 vs. 6% in Q1 2019), established destinations still capture the lion's share of international tourist arrivals, with Europe accounting for 46% in Q1 2023 (vs. 40% in Q1 2019), followed by Asia & the Pacific at 21% (vs. 31% in Q1 2019), and the Americas at 19% (vs. 18% in Q1 2019).
Furthermore, emerging destinations face significant challenges ahead such as high inflation and rising oil prices, which will drive accommodation and travel costs up, pushing tourists to "increasingly seek value for money and travel closer to home", as the UNWTO Panel of Experts warns.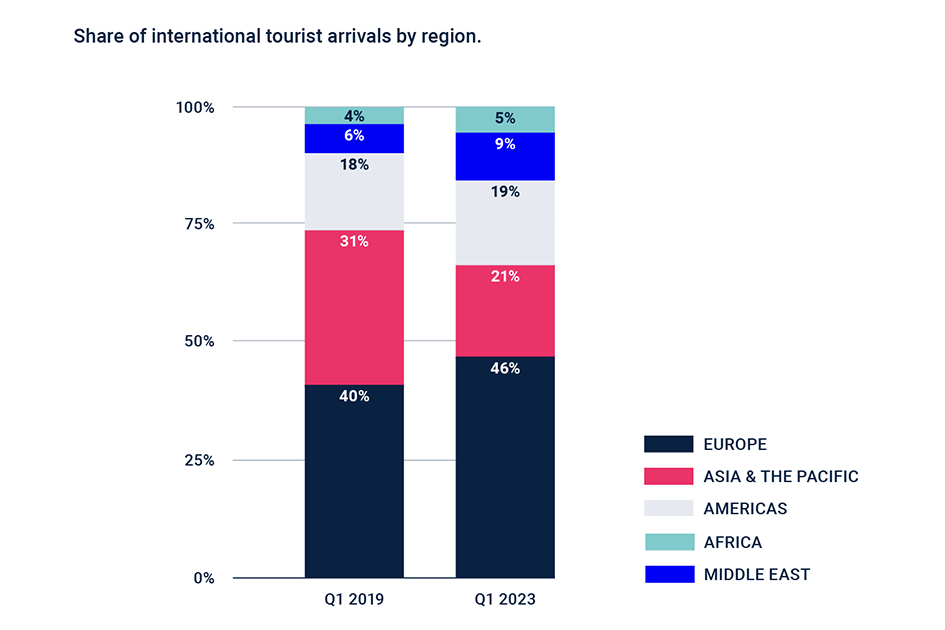 Source: UNWTO Inbound Tourism Database, UNWTO press releases
In this context, new tourism destinations struggle to compete and put themselves on the world map for several reasons. First, their brand awareness is lower than that of more established destinations.
Second, they generally have limited infrastructure to accommodate large volumes of visitors and less expertise in offering distinctive experiences to attract them.
Finally, they are often not highly visible on the radar of regional and international investors and industry partners. All of these factors create a growth deadlock: low awareness as a tourism destination results in limited tourist appeal and a limited number of domestic and inbound visitors, which leads sector investors and players to fail to prioritize the destination. This in turn inhibits successful development of the tourism offer, and the cycle repeats.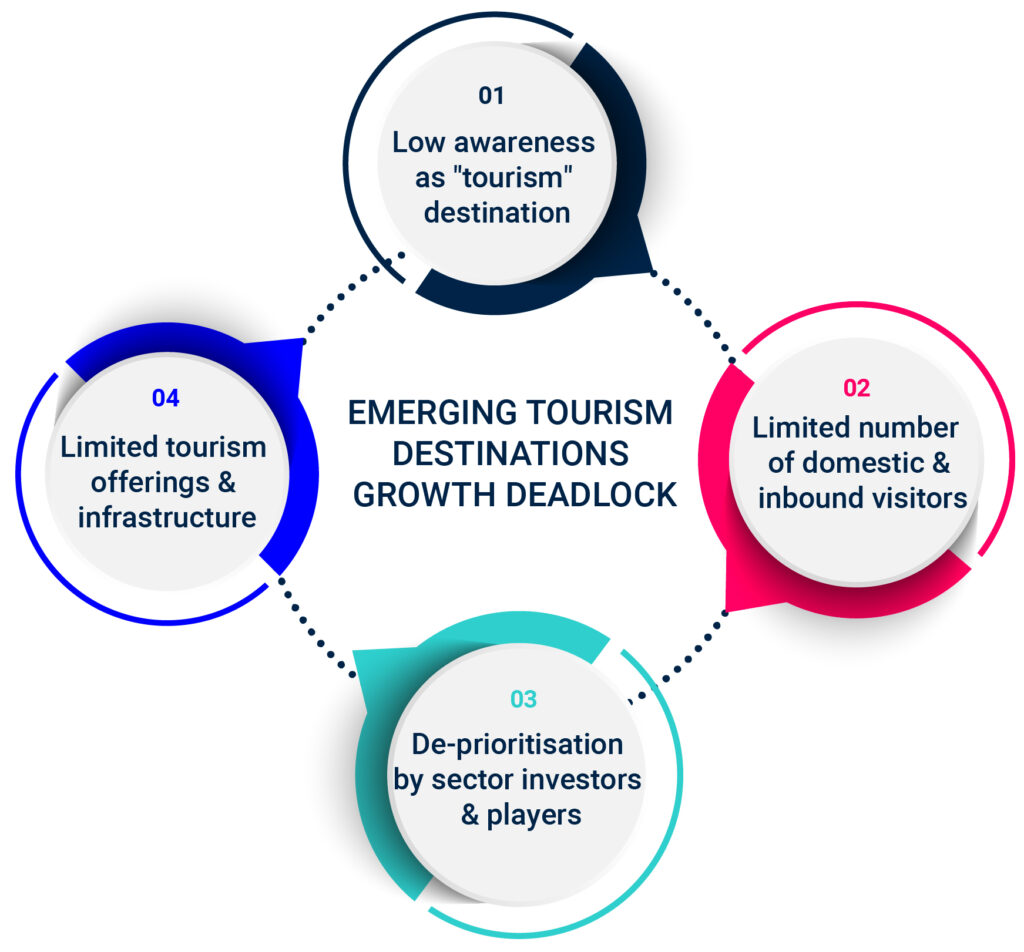 Source: Artefact Analysis
How can a new tourism destination break the growth deadlock and emerge to become globally recognized? Tourism boards and destination authorities must leverage data intelligence and digital technologies to be on a level playing field.
Devoting resources to develop capabilities around data collection, analysis and insight activation is a necessity rather than an ambition today. This is especially true in a post-pandemic context, where travel is rapidly accelerating and giving unprecedented opportunities for emerging tourism destinations to capture larger shares of tourists, all seeking new adventures after two years of travel restrictions.
ARTEFACT CONTRIBUTORS:
Anthony Cassab, Anthony Hanna, Hemanth Mandava, Faisal Najmuddin and Andrei Dogaru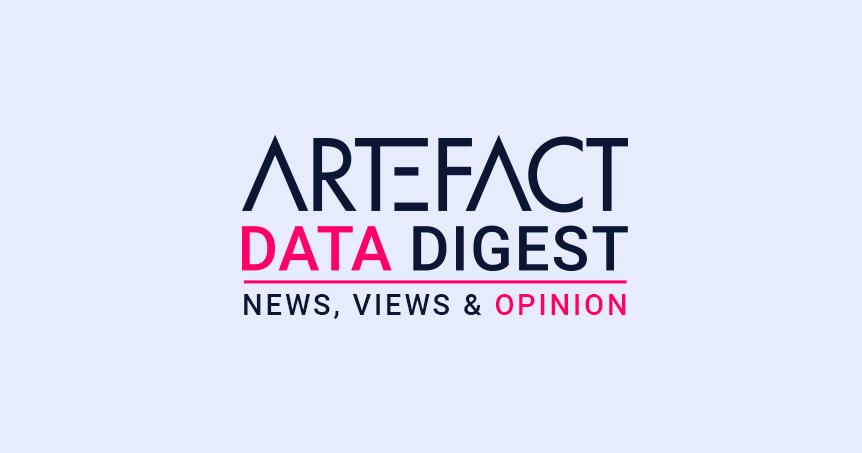 Interested in Data Consulting | Data & Digital Marketing | Digital Commerce ?
Read our monthly newsletter to get actionable advice, insights, business cases, from all our data experts around the world!