AI has the potential to transform the healthcare industry with digital solutions that streamline the way healthcare practitioners approach diagnosis and interact with patients. Vincent Luciani, CEO of Artefact, and Guido Merighi Buitoni, Global Head of Business Data & Analytics at Sanofi, talk about how AI is improving the patient care journey – while handling data responsibly and securely.
How AI is improving the patient care journey?
Over the last few years, AI applications have appeared across the entire healthcare ecosystem, streamlining processes and improving patient outcomes. Advanced chatbots help emergency responders identify a heart attack in progress. AI-powered surgical robots perform minimally invasive procedures. And AI-based software platforms automate the healthcare industry's most repetitive tasks, saving precious time for busy administrators.
The exploding AI healthcare market (which includes software, hardware & services, algorithms, applications and end-users) is expected to reach $44.5 billion by 2026, with a projected average annual growth rate of over 46% (MarketWatch report, 3 January 2022 "Healthcare Artificial Intelligence (AI) Market 2022 Industry Scenario, Strategies, Growth Factors and Forecast to 2026″).

At Artefact, we've identified three key areas where AI can significantly improve the patient care journey: self-diagnosis, drug development and monitoring, and personalised health.
Digital accelerated self-diagnostics
We've all seen the wearable devices AI has given the world, like fitness trackers, smartwatches, and even background noise-diminishing hearing aids. They help keep people in shape, tally calories, and improve general well-being.
But AI technology also offers self-diagnostic tools that can help patients avoid unnecessary trips to the doctor. Virtual nursing assistants can converse with patients empathically about their conditions, offer suggestions, and, if necessary, direct them to the most effective care unit and alert providers in case of problems.
Many pharmaceutical companies are forming partnerships with tech companies to develop new healthcare applications. In 2020, Sanofi teamed up with British company Babylon to use their online symptom checker to assist patients with digestive health conditions.
"The tool was able to give a Level 1 diagnostic, offering people fast recommendations and next steps on IBS (Irritable Bowel Syndrome), a condition that's often undiagnosed, under-addressed and improperly treated,"
says Guido Merighi Buitoni, Global Head of Business Data & Analytics at Sanofi.
Drug safety monitoring; drug discovery & development
AI can be used to monitor drug efficacy and safety and adverse effects. This practice, called pharmacovigilance (PV,) is an integral part of the role of pharmaceutical companies. Using AI-based insights, adverse effects can be analysed to rapidly identify emerging trends. These trends can then help identify which population segments would best benefit from (or avoid) a given treatment and help lead the way to new treatments and cures.
Pharmaceutical leader Bayer is working with its partners to explore the use of AI technology to support decentralised (virtual) clinical trials enabled by telemedicine, home delivery of clinical supplies, e-consent, the use of wearables, and live 24/7 data monitoring.
AI is also showing great promise for accelerating the drug discovery and development process: In April 2021, pharmatech company Exscientia and biotechnology experts Evotec announced a Phase I trial for the first AI-designed drug for the treatment of advanced tumours. The traditional discovery process would have taken up to five years to complete, but thanks to AI, the drug candidate was found in only eight months. Exscientia is now working with other pharmaceutical companies, including Sanofi, to develop oncology and immunology treatments.
Personalised health and wellness
The third area of research under study is how AI can improve human health behaviour, such as helping people improve their diets.
Using data-based diet planning, AI could personalise nutritional programmes and create meal plans for a person's specific metabolism and digestive system. While the first application that springs to mind is weight control, programmes like this could potentially save millions of lives by preventing diabetes, heart disease, and other conditions caused by poor nutrition.
Potential systems could integrate with smart wearables for more easily achievable results and sustainable healthy benefits.
With opportunity, risks and ethical considerations
While AI promises to improve the efficiency of healthcare delivery and quality of patient care, there is a need to minimise the ethical risks of AI implementation, which may include eventual threats to privacy and confidentiality, informed consent, and patient autonomy.
These are vital issues. But there is no single builder of the end product in AI and machine learning. An entire community of people is involved in the life of an algorithm, from data scientists and others who make eventual improvements to it, to the software company that sells it and end-users. Consequently, there's an issue of accountability.
"While there's no simple solution, transparency is always the best policy. This means always obtaining consent for data use, anonymising personal information, and finding ways to ensure data confidentiality for patients", states Vincent.
"Even medical education would need to be reframed from a focus on knowledge recall to a focus on training future physicians to interact with and manage AI-driven machines", he adds. This reframing would also require diligent attention to the ethical and clinical complexities that might arise between patients, caregivers, and machines.
The critical role of data governance
While healthcare opens up a world of potential new uses for data and AI, there are also impediments to its success: gender bias during the analysis of use cases is one. The symptoms of a heart attack in a male are very different from those in a female, and unless those differences have been taken into account, any analysis will be flawed. Biases around race, ethnicity, or religion are also possible. To avoid them, the concept of "inclusive AI" should be a principle when developing any AI application.
Data governance is of paramount importance: guidelines must be established and best practices defined and consistently followed. In 2020, AstraZeneca engaged experts from inside and outside their company to assist them in developing a Data Governance Framework based on the principles of fairness, accountability, privacy & security, explainability & transparency. The Data Governance Framework will be part of their global Code of Ethics.
Other concerned companies around the world are undertaking new efforts to ensure fair and ethical use of AI. On 13 January 2022, Microsoft and leading public, private, educational and research organisations across the U.S. healthcare and life sciences industries announced the formation of the Artificial Intelligence Industry Innovation Coalition (AI3C) with the goal of maximising technology to provide recommendations, tooling and best practices for AI in healthcare.
"Although AI has enormous potential to advance health care by improving the treatment and prevention of disease and expanding health equity, we must also be clear about its limits: nothing can replace the quality of advice you receive from your practitioner or doctor."
Vincent Luciani, CEO, Artefact
Thanks a lot for reading our article about "How AI is improving the patient care journey"! Please feel free to reach out if you wish to contribute to the package development or have any improvement ideas. In the meantime, you can visit the Artefact blog for more information about our data projects.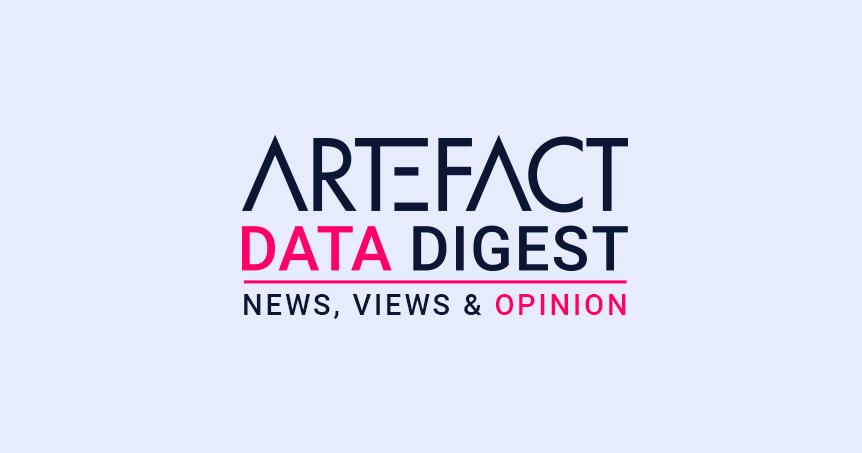 Vous êtes intéressé par le conseil en données, le marketing digital et l'ecommerce ?
Lisez notre newsletter mensuelle pour obtenir des conseils pratiques, des idées, des études de cas, de la part de tous nos experts en données du monde entier !