La data et ses usages sont de plus en plus présents dans l'activité des entreprises. Elle est au centre de la recherche d'amélioration de leur productivité et de leur efficience générale. La Data Gouvernance permet, grâce à différents processus et une structure organisationnelle adaptée, d'ordonner les données, d'en améliorer leur qualité et de répondre aux enjeux éthiques et réglementaires de traitement de la data.
Interview de Justine Nerce, Partner chez Artefact, par le Hub Institute.
Justine est spécialiste de la data gouvernance chez Artefact. Sur la base de son expérience de ce type de projets dans de grands groupes, elle revient sur l'importance de la gouvernance des données et le positionnement spécifique d'Artefact dans ce domaine. L'entreprise, spécialisée en conseil data, intervient sur toute la chaîne de valeur des entreprises, de la stratégie data au déploiement de projets IA, en passant justement par la gouvernance, comme prérequis essentiel au succès de l'implémentation et du passage à l'échelle des cas d'usage. 
What are the challenges of data governance today?
The amount of data and the number of use cases around data is constantly increasing. First, companies have to deal with the challenge of getting the most possible value out of their data and democratizing it. Good quality, well documented data should allow it to be accessible to the end user.
Tout cela s'applique dans le cadre de l'éthique et de la protection des données. La gouvernance des données devient essentielle pour garantir le respect de certaines lois sur la protection des informations personnelles . En Europe, le Règlement Général sur la Protection des Données (RGPD) est en vigueur et il tend à devenir la norme au niveau mondial.
Cela signifie alors que l'entreprise doit être en mesure de démontrer qu'elle connaît les données qui circulent au sein de son infrastructure. Elle doit être entièrement transparente sur leur collecte auprès de ses utilisateurs et être en mesure de supprimer toutes les données liées à une personne de manière immédiate.
D'autre part la migration vers le cloud s'impose et trois usages principaux se dessinent: la Business Intelligence, l'Intelligence Artificielle, et la data exploration. En structurant la donnée grâce à la data gouvernance, les entreprises pourront opérer ses trois familles d'usage as a service.
Ces produits data constituent un bien commun, transverse et utilisé par tous, qui doit disposer d'une équipe dédiée. Ce produit doit être de qualité, mais aussi être visible et utilisable par tous. Il y a donc un enjeu de démocratisation de la donnée en entreprise. Il faut aussi que ce produit data soit sécurisé et protégé pour répondre aux différents sujets réglementaires et éthiques.
How does Artefact support companies in implementing data governance?
At Artefact, we act as a consulting firm. We support all our clients throughout data governance implementation, from strategy to deployment. First, we perform an audit to see where they stand, then define a roadmap to identify areas to work on. Finally, we build a data asset structure into data products and help them choose the technical tools they need.
Dans notre approche conseil, nous insistons sur l'importance de la data comme vecteur de valeur de l'entreprise, puis nous travaillons sur le déploiement, le choix des outils de qualité et sur la documentation de cette gouvernance pour donner corps à cette stratégie et la rendre opérable.
Nous avons également mis en place notre propre Artefact School of Data, qui nous permet de former les data stewards et les data owners, qui sont des rôles essentiels à la mise en place d'une gouvernance des données en entreprise. Et au-delà de cette formation professionnalisante, nous intervenons aussi directement en entreprise pour acculturer les organisations à la nécessité d'une gouvernance de la data élaborée et accompagnée pour réussir ses projets IA.
What is unique about Artefact's global vision?
Our strength is that we propose a global data governance model, focusing on end-use cases first. We position data governance as an "asset" of this transformation. We're able to transcribe use cases into tangible value and be part of a global transformation program.
Nous avons également des experts pluridisciplinaires : nous sommes une vingtaine en France à être spécialisé dans les sujet de la data gouvernance avec des profils qui viennent de différents horizons : des data product owners qui modélisent les produits, des data stewards, qui documentent et mettent en qualité, mais aussi des data ingénieurs et des data analysts.
Nous avons par ailleurs un écosystème de partenaires technologiques avec lesquels nous collaborons de manière agnostique. Nous sommes également experts de tous les nouveaux outils qui apparaissent sur le marché. On a un ADN technique et un ADN stratégique à la fois, et on arrive à faire le lien entre tous ces sujets pour les traiter de façon holistique et englobante et les déployer chez de nombreux clients.
Have you got a concrete example of support that you've provided?
We assisted one of our major clients with very extensive data assets in their data transformation. The project concerned a redesign of their data governance. When we arrived in mid-2017, we saw that their governance had been approached from a too-technical and not sufficiently "business" perspective. This resulted in a lack of adoption of the necessary tools. To correct this, we linked their governance to their strategic use cases. To do so, we documented the use cases, democratized their access, and improved data quality to ensure good results. The first pilots were a success! We then faced the challenge of scaling up.
En 2020, nous avons accompagné cette même entreprise dans le lancement d'un programme pour accélérer les programmes d'Intelligence Artificielle et la migration vers la plateforme Google Cloud (GCP). La gouvernance avait été positionnée comme un actif stratégique de leur transformation et ce lancement s'est déroulé en deux étapes :
la structuration de leur "Data Gouvernance Office" et la mise en place d'un modèle opératoire avec des data stewards et des data custodians, etc.

la structuration de leur patrimoine de données en grand "business domain", avec le choix des outils à opérer, etc.
Nous entrons maintenant dans une troisième phase d'industrialisation et d'extension de ce programme IA. Dans le cadre de la migration vers le cloud, nous analysons comment nous pouvons arriver à structurer, rationaliser, mutualiser les assets data. En ce moment, nous sommes passés à la deuxième étape, qui consiste à structurer notre patrimoine de données selon ces grandes familles de métiers. Ensuite, nous allons prochainement réfléchir à l'élaboration des produits data de demain qui vont servir différentes catégories de cas d'usage.
What can we expect in the future, once everyone has implemented their data governance?
The availability of data will allow the implementation of even more use cases, particularly in the area of Artificial Intelligence. This will accelerate value creation within organizations. It will also allow us to support all the issues surrounding data democratization and decentralization, especially in terms of bringing data closer to the business. Artefact's mission is to create this bridge between data and business, and we carry it out on a daily basis with our clients. If the data is well structured and clean, if the products are available, and if we have the push-button tools to manipulate them, theoretically in five years, everyone will be able to use data in their daily work!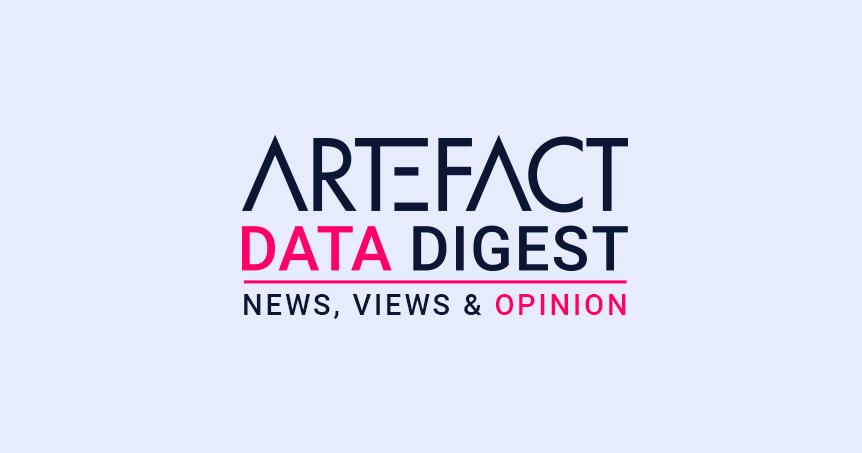 Vous êtes intéressé par le conseil en données, le marketing digital et l'ecommerce ?
Lisez notre newsletter mensuelle pour obtenir des conseils pratiques, des idées, des études de cas, de la part de tous nos experts en données du monde entier !