In the data world, the concept of "data for data's sake" is meaningless.
At Artefact, our philosophy has always been that data is only truly valuable when it contributes to business objectives. That's why we developed a laser-focused six-week approach to define a target vision and actionable next steps on the path to value.
Artefact leverages its extensive business and industry knowledge and robust use case library to quickly assess the current state of an organization's data strategy. Efficient methodologies are applied across four pillars: Vision, Data Usage, Data Governance, and Data Platform. Using existing benchmarks and a goal-oriented mindset, Artefact ensures that the process remains concise and goal-oriented, delivering outcomes that align with the client's objectives.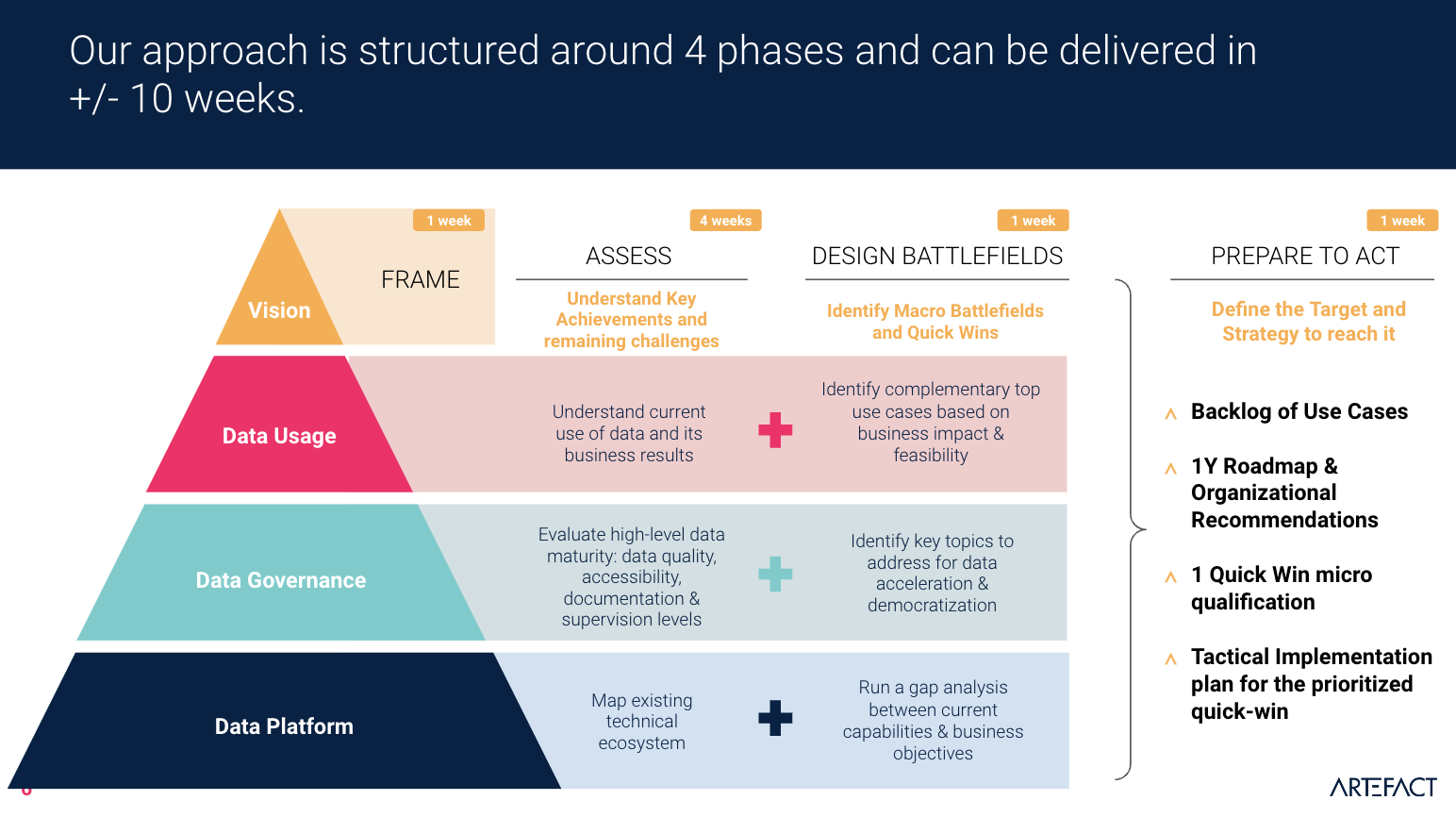 Building a data strategy and a business case
The client is a global wellness tech company that provides devices and services for physical and mental health. After rapid expansion, the client asked Artefact to define their data strategy and build a business case to focus on the right use cases, streamline their tech stack, and build the necessary foundation. Artefact conducted over 50 interviews across more than 10 business lines and mapped a comprehensive inventory of more than 100 existing tools and ten key data use cases within the organization.
Addressing gaps in data strategy, structure and organization
The wellness tech company's rapid growth and success posed challenges to establishing a robust data infrastructure and accessing critical data, such as daily sales information. This resulted in an undefined data entity and inefficient data access processes that prevented the company from fully exploiting its valuable data assets. Data silos and a lack of standardized data governance practices further limited visibility into critical business insights.
The lack of a designated data owner within the organization contributed to the difficulty of establishing a single source of truth or golden customer record. Fragmented and inconsistent data across different stages of the customer journey resulted in limited data insights and hindered data-driven decision making. The lack of consensus on key performance indicators across different business units further eroded data trust, as each unit had its own interpretation and definition of metrics such as daily sales.
As a result, the company began to lose sight of its customer-centric approach. The absence of a well-structured data framework hindered the company's ability to obtain comprehensive customer insights. To regain a clear understanding of its customers, their preferences, and their needs, the company needed to establish a coherent data framework . This would enable data-driven decision making and the delivery of personalized experiences, driving customer satisfaction, loyalty, and sustainable growth.
A three-year vision for current and future projects
After identifying and analyzing these challenges, Artefact developed customized strategies and solutions to address the data-related gaps, foster a data-driven culture and enable the wellness tech company to unlock the full potential of its data assets. Artefact not only developed this 3Y vision, but also successfully executed and implemented the initiatives in subsequent projects. By translating this vision into actionable steps, Artefact ensured that strategic objectives were effectively implemented, driving tangible results and progress toward defined data goals:
Extended data glossary: Integrated more than 300 terms into Microsoft Purview, providing a comprehensive training documentation package with streamlined bulk upload, delete, and edition capabilities. This ensures clarity and consistency in data understanding across the organization.

Improved data quality: Defined three fundamental data quality definitions (completeness, uniqueness, and validity) and mapped them to more than 250 applicable Critical Data Elements (CDEs). These definitions now serve as a solid foundation for the development and implementation of data quality technical rules, enabling continuous DQ monitoring.

360 customer view: Obtained a holistic, 360-degree view of customers across all platforms by integrating the Treasure Data Customer Data Platform. This comprehensive view of customers provides a deep understanding of their behaviors, preferences and interactions to allow personalized, targeted marketing strategies.

Enhanced operational efficiency: Developed an advanced Operational Data Store (ODS) that effectively handles a high volume of daily orders without website crashes or order loss. The optimized ODS architecture substantially reduces order processing time and transforms hours-long processes into seconds, leading to improved customer satisfaction and operational efficiency.

Data analytics factory: (Starting with in-month sales and revenue dashboard) Fast and automated access to sales and revenue, reducing time to insight from 15 hours to 15 minutes per week.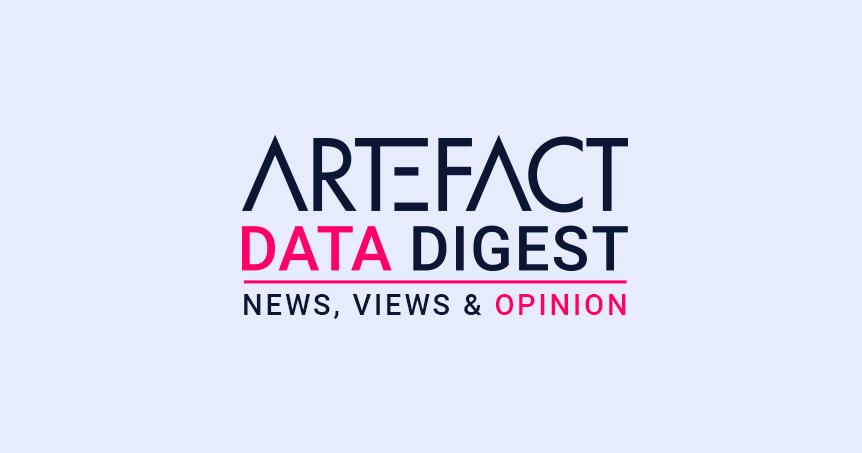 Interested in Data Consulting | Data & Digital Marketing | Digital Commerce ?
Read our monthly newsletter to get actionable advice, insights, business cases, from all our data experts around the world!