The increasing complexity of the regulatory space, as well as potential technical solutions, makes it difficult for even established companies to reach their customers with the personalized interactions they desire. When your growth strategy calls for enhancing your understanding and use of your customer data cloud, you may realize you'd benefit from bringing in a partner for execution. Treasure Data has a network of trusted partners–one such partner is Artefact, a global services company specializing in consulting for data transformation, as well as data & digital marketing. Artefact supports some of the world's largest brands, including Nestle, Sanofi, and Samsung.
Treasure Data recently interviewed Vinicius Guimarães, Senior Data Consultant, and Alexandra Mangeard, Partner at Artefact, to get a better understanding of how Artefact partners with Treasure Data to help businesses leverage data for tangible impact across the entire value chain.
Treasure Data: Tell us about Artefact.
Alexandra Mangeard: Artefact's approach is unique. We sit at the intersection of consulting, marketing, and data science, and our data-driven solutions put consumers at the heart of companies' digital transformation strategies.
Our 1000+ people are experts in data consulting, data marketing, and digital media, and our teams work together to help our clients innovate effectively. We use proprietary cutting-edge AI technologies and an agile machine learning operations (MLOps) methodology to deploy AI projects rapidly, scale efficiently, and guarantee success.
We have teams of specialists who collaborate on projects to ensure our clients' success. This includes:
350+ Data Consultants who identify the problem, design the solution, and serve as the key link between the business challenge and the technical solution

150+ Data Scientists who create statistical modeling of Artificial Intelligence and Machine Learning

100+ Data Engineers who automate and industrialize models and digital products, and construct/adapt the infrastructure and data pipeline

100+ Data Analysts who analyze numerical data and use it to help companies make better decisions

300+ Data & Digital Marketing who are experts in media channels and help clients design the best possible marketing strategy, audience planning and cross-channel campaigns
Treasure Data: What's the most important challenge you're helping your clients with today?
Alexandra Mangeard: We have found that our clients face three main problems in data marketing:
1. Measuring whether the impact of their data marketing strategy is aligned with their business objectives, through the building of Marketing ROI and CLTV (Customer LifeTime Value) measurement methodology and dashboards.
2. Guiding their marketing team and external partners in adopting new technologies and data-driven best practices, which requires a change of habits/process and the development of a new set of analytical skills.
3. Adapting their paid media activation, mainly based on third-party cookie activation, to the future cookieless world.
Artefact helps our clients solve these challenges by building their first-party data strategy, implementing the right tools to centralize their data, and building an Audience Engine dynamic to accelerate and optimize campaign personalization.
Treasure Data: How do you see CDPs playing a critical role in helping companies grow in the future?
Vinicius Guimarães: Investing in a CDP is a key driver to help companies move from a "product-centric" approach to a "customer-centric" one. Before CDPs, it was harder for companies to have a assertive customer-centric approach, as they lacked visibility of who the customer was and where the customer was in their journey with the company. This prevented companies from efficiently reaching them at the right time, through the right channel, with the right message.
The CDP is resolving those blocking points. Beyond its technical value in centralizing all the different customer data sources and building the 360 customer view, a CDP empowers the marketing team to become autonomous and proactive in their customer journey activation. It is an end-to-end solution that reconciles all the different actors within the organization (IT, Brands managers, Marketing operations, etc.) around one centralized approach.
With this solution, customer data becomes reliable and democratized, and therefore actionable, generating value for companies to grow with consistent and relevant customer-centric strategies.
Treasure Data: How does the Treasure Data CDP fit with your company's offerings?
Alexandra Mangeard: Artefact is a service company, not a product company, therefore Treasure Data CDP is very complementary with our offering. Treasure Data resolves the technical aspect of the customer data strategy, and offers a very comprehensive tool for clients to use in centralizing, processing and activating their customer data. Artefact creates the right ecosystem for this tool to bring its full value for the company.
As I like to say, even if you own a Ferrari, if you don't know how to drive, don't have the right fuel, and don't have the right map, you might not win the race. Artefact is here to help you design the best customer strategy, define and run the use cases to support your customer-centric approach, optimize the Treasure Data CDP to deliver those use cases, and build the right operating model and data governance for your team to be effective.
Treasure Data: What is the most interesting difference between your teams/value offering, and that of your competitors? Is it unique in some way?
Alexandra Mangeard: Artefact is well placed to assist clients in any industry vertical and any market. Our company has a unique approach, and we differentiate ourselves from the competition through the following:
1. End-to-end data and digital expertise:
While everybody talks about data, at Artefact we act. We have a problem-solver's mindset and value transparency above all else. Before pushing any technology or use cases, we always begin by understanding the business challenges. We support our clients from strategy to operations: Design, Build, and Run. Not only do we guide our clients in their transformation journey, we also ensure we are developing a sustainable approach that does not create a dependency on Artefact's continued services. To do so, we make sure to integrate our AI solution within the client's legacy system and provide business continuity (change management, adoption, and training).
2. People excellence: multi-disciplinary competencies
Artefact has proprietary methodologies and a team with the expertise to work together on all our projects. It seems trivial, but in our view it is one of the biggest challenges between business and technical teams. Our feature teams are able to understand both business and technical requirements, and accelerate the identification and construction of solutions.
3. Advanced AI technology & MLOps agile methodology
We are tech-agnostic, combining advanced custom codes with open source and proprietary software. We know how to select and deploy the right technology and AI use cases to better answer our client's business challenge. But mostly, we know how to boost our clients beyond the POC and into fully operationalizing the best of MLOps agile methodology.
4. Successful global track record
We have designed and implemented 80+ data platforms world-wide, and are a key expert in Treasure Data technology. We have implemented TD for both B2C and B2B companies, multi-brand /multi-BU organizations, and multi-region scope. Our operating model and tech expertise allow us to be able to implement TD according to our clients' specific needs and context.
Treasure Data: Can you talk about how you solved one or two customer problems with customer data?
Vinicius Guimarães: There are several problems that can be leveraged through a CDP and for which the quality/efficiency is boosted by the customer unification model. Some examples using Treasure Data that we solved are:
1. How do I personalize communication based on customer's engagement with my brand?
We created a unified 'engagement metric' by applying several business-driven rules (e.g., purchase or interaction behavior). Here, we explored different types of data available on a customer level, and after the creation of this 'engagement score', we made this available in Treasure Data's Audience Studio to allow segmentations using the new score as a rule (e.g., "High Engagement Customers"). Under the new scoring, more engaged segments impacted positively in both open and click rate in over 50%. Using the unified engagement metric and adding other signals/rules on top allows the brand to achieve a more enhanced level of personalization on a customer level.
2. How can I leverage and prove value of first-party data in paid media campaigns?
Treasure Data's CDP and its native connectors were key for running this use case. For a pilot activation, first-party segments were segmented inside Treasure Data's Audience Studio according to specific brand rules and exported to Facebook Ads via native connector, which were then easily activated. This process helped the marketing team to prove value of the first-party data and compare performance vs. third-party audiences. In terms of results, first-party segments were activated via customer match solution and lookalikes were also created, which generated a CTR between 2x-4x higher than the third-party activation.
Treasure Data: How has Artefact been using change management to drive greater use of data in enterprise marketing?
Alexandra Mangeard: With new data and new technologies, comes new innovative use cases and ways of working. In order to deploy them successfully, the marketing team and partners need to adapt their operating model for a more dynamic and proactive process. With that being said, the involved teams need to be more data driven, run analysis and extract insights on a frequent basis. Tools such as CDP give you a great advantage to start your use case, but without the right people and process to support it and optimize it, you are soon losing the competitive advantage that the tool was offering.
To learn more about the impact of privacy regulations and cookie deprecation for ad targeting and data strategies, read Artefact's e-book, The rise of the Customer Data Platform in a cookieless world.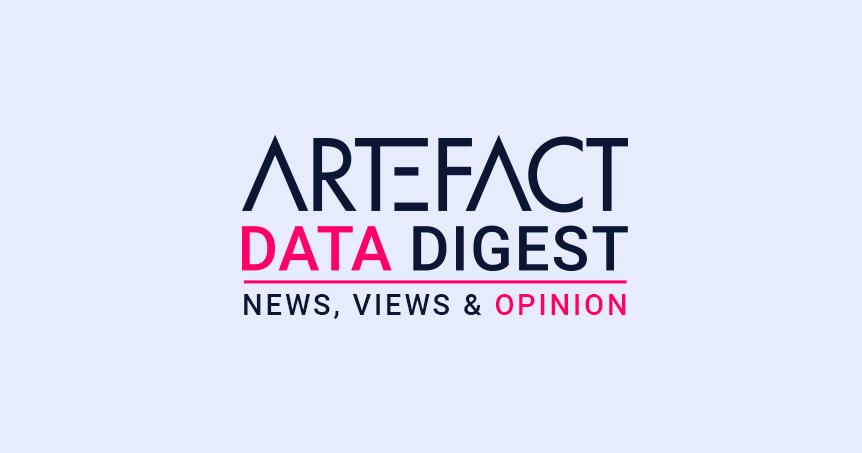 Interested in Data Consulting | Data & Digital Marketing | Digital Commerce ?
Read our monthly newsletter to get actionable advice, insights, business cases, from all our data experts around the world!